The Martian By Andy Weir AudioBook Download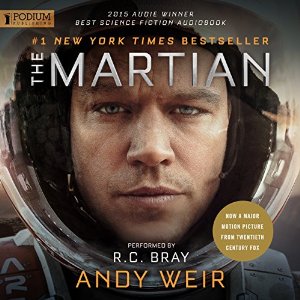 The Martian By Andy Weir AudioBook Download
Written by: Andy Weir
Narrated by: R. C. Bray
Length: 10 hrs and 53 mins 
Unabridged Audiobook
Release Date:03-22-13
Publisher: Podium Publishing
Summary
Long before the movie, listeners were first introduced to astronaut Mark Watney in an audiobook—and he remains the most fascinating person you've never met. He tells you how he made it back from Mars as though he's leaning back on a chair at your kitchen table. Feet up, rough around the edges. But no worse for wear.
After a dust storm nearly kills him and forces his crew to evacuate while thinking him dead, Watney finds himself stranded and completely alone with no way to even signal Earth that he's alive—and even if he could get word out, his supplies would be gone long before a rescue could arrive.
But as Mark will tell you, he won't have time to starve to death. The damaged machinery, unforgiving environment, or plain old "human error" are much more likely to kill him first.
Drawing on his ingenuity, his engineering skills—and a relentless, dogged refusal to quit—Mark steadfastly confronts one seemingly insurmountable obstacle after the next.
R.C. Bray is brilliant in The Martian, inhabiting Watney's done-that voice so truthfully, you'll swear there's been a man on Mars. But wait, has there?
File Size: 299.23 MB
Format: MP3
Download 
https://rg.to/file/49c8f89496af001bc7b01420a0d7f3e2/Andy_Weir_-_The_Martian.zip.html
Or
http://nitroflare.com/view/CDEEE16E7AEB943/The_Martian_-_Andy_Weir.mp3