Mad Moon of Dreams | Brian Lumley | AudioBook Free Download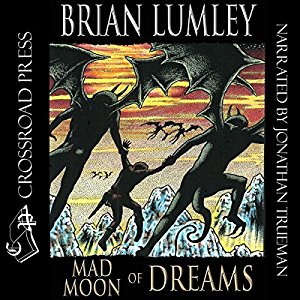 Mad Moon of Dreams By Brian Lumley AudioBook Free Download
Written by: Brian Lumley
Narrated by: Jonathan Trueman
Length: 7 hrs and 15 mins 
Series: Dreamlands, Book 3
Unabridged Audiobook
Release Date:10-20-16
Publisher: Crossroad Press
Mad Moon of Dreams AudioBook Summary
Once David Hero was an ordinary man living in the real world. Now he is trapped in the Dreamlands, cut off from the waking world. David Hero's dreams and nightmares have become his own reality.
Swollen, glowing oddly in the gloom of night, the moon hangs lower and lower over the Dreamlands. Its weird, unearthly light transforms beautiful landscapes into twisted nightmares and imperils the sanity of any who walk abroad after sunset.
Beams of terrible power stab the unsuspecting earth, destroying the land, shattering buildings, and dragging people into the shrieking sky, straight toward the hellish moon!
David Hero, once a man of the waking world, finds himself fighting side by side with his worst enemies – Zura and her zombie armies, the Eidolon Lathi and her termite men – against the slimy, many-tentacled moon monsters.
File Size: 199.13 MB
Format: MP3
Download
https://rg.to/file/6750e61a3a36e76d46038024adf5ab06/Brian_Lumley_-_Mad_Moon_of_Dreams.zip.html