Love in the End Zone By Carina Rose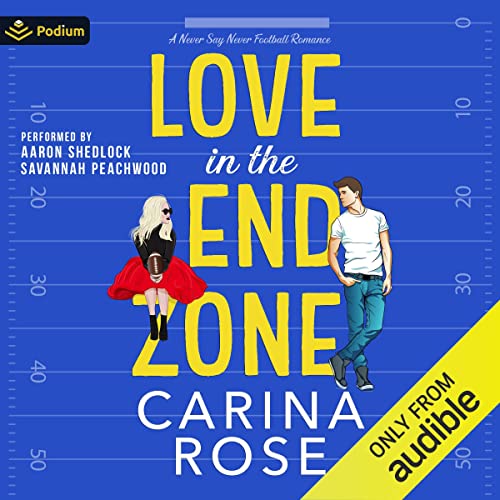 Narrated by: Savannah Peachwood, Aaron Shedlock
Series: A Never Say Never Football Romance
Length: 6 hrs and 12 mins
Release date: 08-16-22
Love in the End Zone By Carina Rose AudioBook Summary
Pro quarterbacks regularly face tough linemen determined to knock them down—but for one hotshot athlete, it was an infuriating blonde who stood the best chance of laying him on his back.
I was one of the top quarterbacks in the league, riding high after scoring a lucrative deal with the DC Rockets. Fans adored me, sponsors wanted me, and women, well, they were eager to date me. Except my life revolved around football, not falling in love.
Until I saw her.
I'd just scored the winning touchdown, sending the Rockets into the playoffs and ending the Virginia Thunder's season. I spiked the ball and basked in the fans' cheers. I'd done it. But then I took off my helmet and locked eyes with a gorgeous blonde.
She wasn't cheering. Instead, she stood with her arms crossed, glaring at me. I smirked and winked, hoping to soften her murderous expression. Except it had the opposite effect. Rather than smiling back, she lifted her hand and extended her middle finger before disappearing into the crowd.
Download
https://rg.to/file/1249570b81f48d1e9e364ad4d37ec590/Carina_Rose_-_Love_in_the_End_Zone.m4b.html