Lords and Ladies By Terry Pratchett Narrated By Bill Nighy (2022 Edition)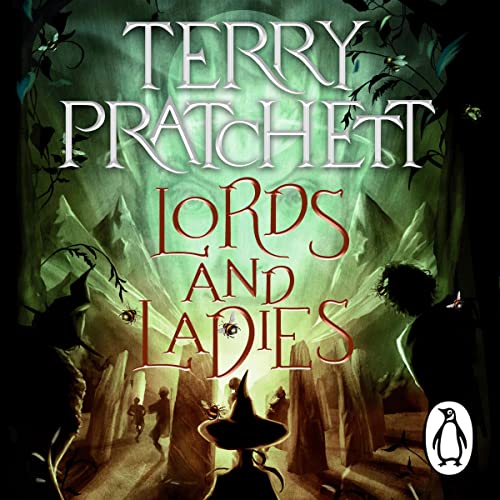 Narrated by: Indira Varma, Peter Serafinowicz, Bill Nighy
Series: Discworld: Witches, Book 4, Discworld, Book 14
Length: 10 hrs and 12 mins
Release date: 04-28-22
Lords and Ladies By Terry Pratchett AudioBook Summary
The audiobook of Lords and Ladies is narrated by Indira Varma (Game of Thrones; Luther; This Way Up). BAFTA and Golden Globe award-winning actor Bill Nighy (Love Actually; Pirates of the Caribbean; Harry Potter and the Deathly Hallows) reads the footnotes, and Peter Serafinowicz (Star Wars: Episode I – The Phantom Menace; Shaun of the Dead) stars as the voice of Death. Featuring a new theme tune composed by James Hannigan.
'People didn't seem to be able to remember what it was like with the elves around. Life was certainly more interesting then, but usually because it was shorter. And it was more colourful, if you liked the colour of blood….'
On Midsummer Night, dreams are especially powerful. So powerful, in fact, that they can cause the walls between realities to come crashing down. And some things you really don't want to break through.
The witches Granny Weatherwax, Nanny Ogg and Magrat Garlick return home to discover that elves have invaded Lancre. And even in a world of wizards, trolls, dwarfs, Morris dancers – and the odd orangutan – they're spectacularly nasty creatures.
Download
https://rg.to/file/354502e731ff8fc73345fab3ea288d44/Terry_Pratchett_-_Lords_and_Ladies.zip.html