Long for This World By Jonathan Weiner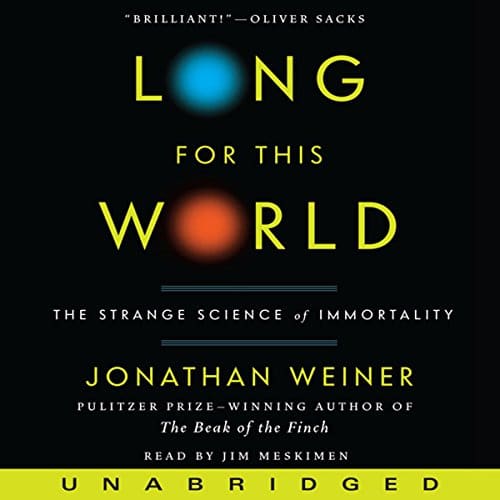 Narrated by: Jim Meskimen
Length: 8 hrs and 30 mins
Release date: 06-22-10
Long for This World AudioBook Summary
From the Pulitzer Prize-winning science writer Jonathan Weiner comes a fast-paced and astonishing scientific adventure story: has the long-sought secret of eternal youth at last been found?
In recent years, the dream of eternal youth has started to look like more than just a dream. In the 20th century alone, life expectancy increased by more than 30 years—almost as much time as humans have gained in the whole span of human existence. Today a motley array of scientists, researchers, and entrepreneurs believe that another, bigger leap is at hand—that human immortality is not only possible, but attainable in our own time. Is there genius or folly in the dreams of these charismatic but eccentric thinkers?
In Long for This World, Jonathan Weiner, a natural storyteller and an intrepid reporter with a gift for making cutting-edge science understandable, takes the listener on a whirlwind intellectual quest to find out. From Berkeley to the Bronx, from Cambridge University to Dante's tomb in Ravenna, Weiner meets the leading intellectuals in the field and delves into the mind-blowing science behind the latest research. He traces the centuries-old, fascinating history of the quest for longevity in art, science, and literature, from Gilgamesh to Shakespeare, Doctor Faustus to "The Curious Case of Benjamin Button".
He also tells the dramatic story of how aging could be conquered once and for all, focusing on the ideas of those who believe aging is a curable disease. Chief among them is the extraordinary Aubrey de Grey, a garrulous Englishman who bears more than a passing resemblance to Methuselah and who is perhaps immortality's most radical and engaging true believer.
A rollicking scientific adventure story in the grand manner of Oliver Sacks, Long for This World is science writing of the highest order and with the highest stakes. Could we live forever? And if we could…would we want to?
File Size: 227.18 MB
Download
https://rg.to/file/f05d356787d440d7ff3b16cee8ca1ec3/Jonathan_Weiner_-_Long_for_This_World.zip.html