Know Your Rights And Claim Them By Angelina Jolie, Amnesty International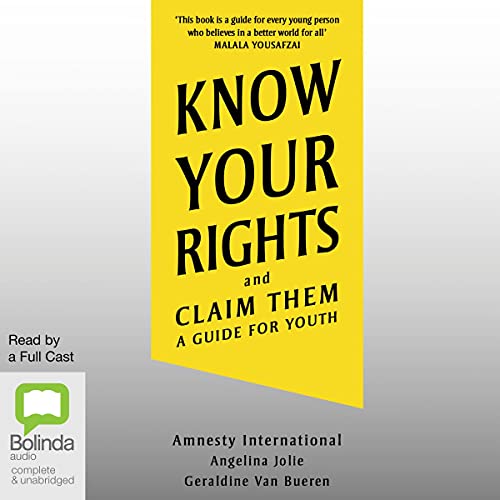 Narrated by: Ariyon Bakare, Daisy Head, Angelina Jolie
Length: 5 hrs and 16 mins
Release date: 09-17-21
Know Your Rights And Claim Them AudioBook Summary
Know Your Rights: And Claim Them focuses on educating the younger generation on their exact rights when it comes to protesting injustice.
If you are aged under 18, you have your own set of human rights. Child rights are unique freedoms and protections designed for you. Governments should uphold them, but all across the world, they are violated. Know Your Rights: And Claim Them gives you the knowledge and tools to claim your rights. It introduces them and explains why they matter in the real world. From gender and racial equality, to the rights to free expression, health, a clean climate and a sustainable environment, they are yours to claim.
Know Your Rights: And Claim Them celebrates the difference young activists have made in every corner of the world and shows you how to challenge injustice wherever you may find it. It presents expert advice on peaceful protest, raising awareness at school and in your community, starting your own campaign and getting those in power to listen, plus vital guidance on protecting your safety, digital security and mental health.
Download
https://rg.to/file/a60cba63f52e4baba61d24b2b249d04b/Angelina_Jolie,Amnesty_International-_Know_Your_Rights_And_Claim_Them.m4b.html