Individual Influence By Brian Smith, Mary Griffin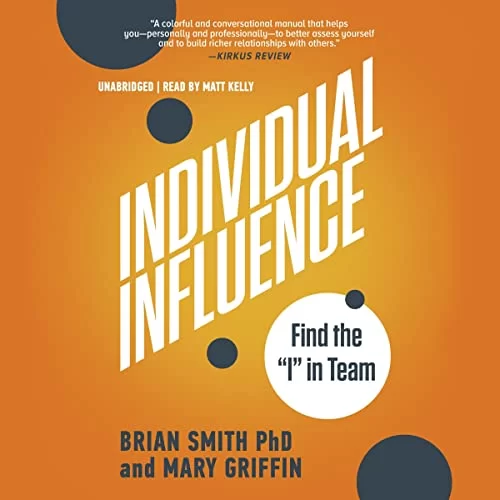 Narrated by: Matthew E. Kelly
Series: The I in Team Series, Book 1
Length: 8 hrs and 7 mins
Release date: 07-19-22
Individual Influence By Brian Smith, Mary Griffin AudioBook Summary
While most of us have grown up being taught that the letter "I" has no place in the word "team," teams are wholly made up of individual advantages that contribute to the collective power of the group.
In Individual Influence, authors Brian and Mary Smith go far beyond this axiom, making a persuasive case that even a company or team of individual players is still an "Individual" at its core—expressing the collective influence of all those who play a role in it. Thus, there is not just one "I" in team, but many.
In the first installment of this series, listeners will be led on a far-from-typical journey of self-discovery punctuated by often humorous stories and tangible steps to put the wisdom into practice.
Demonstrated through real-life experience working with and leading teams, the authors cover many transformative concepts, including:
How to be your best self so that your unique influence radiates from you
Reaping the benefits of slowing down and existing within the moment
How to delegate, hold accountable, define values, and achieve balance
Setting realistic success criteria for yourself and learning to celebrate small victories
Gaining more significant influence over your own conscious thoughts and reshaping your reality
Individual Influence revolutionizes the paradigm of traditional self-help books, presenting a clear, logical flow in implementing solutions to everyday challenges we face. It is a call for listeners to discover who they are, and in doing so, there is a new world filled with unlimited possibilities waiting to be explored.
Download
https://rapidgator.net/file/7c116f5b0cc1996eb34ec618a00d8794/Brian_Smith,Mary_Griffin-_Individual_Influence.m4b.html