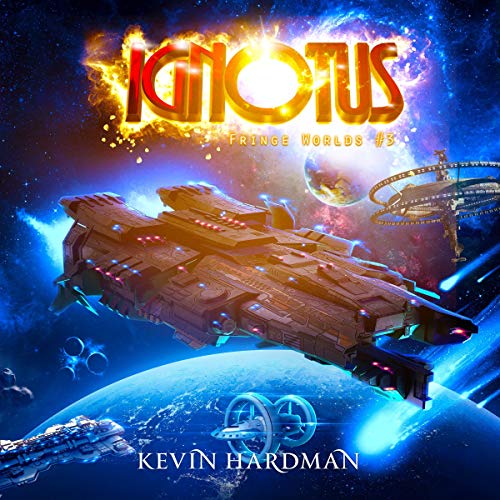 Narrated by: Mikael Naramore
Series: Fringe Worlds Series, Book 3
Length: 11 hrs and 35 mins
Release date: 09-09-20
Ignotus AudioBook Summary
Despite unimaginable odds, Marine Lieutenant Gant Maker has once again done the impossible, defeating the alien Vacra's invasion force and nullifying their unstoppable doomsday device.
With their armada destroyed and their fleet crippled, the Vacra resort to the inconceivable: They sue for peace via an unexpected envoy. Fresh off his highly improbable victory, Maker now finds himself faced with the unenviable and undesirable task of escorting the Vacra representative home.
On a voyage fraught with peril, Maker and his contingent of misfit Marines must travel far beyond the bounds of known space, to a region where human beings are at best an unknown lifeform (and at worst, viewed as less than animals). Contending with alien slavers, space pirates, and warships, Maker is determined to accomplish his assigned task. However, he soon learns that the stakes are far higher than he ever imagined, as his mission exposes him to a new danger – a menace that threatens to destroy the entire human race if Maker can't find a way to stop it.
File Size: 316.02 MB
Download
https://rapidgator.net/file/21cb28f18c813a16c5c417c76ec106a1/Kevin_Hardman_-_Ignotus.m4b.html