If Your Mouth Could Talk By Dr. Kami Hoss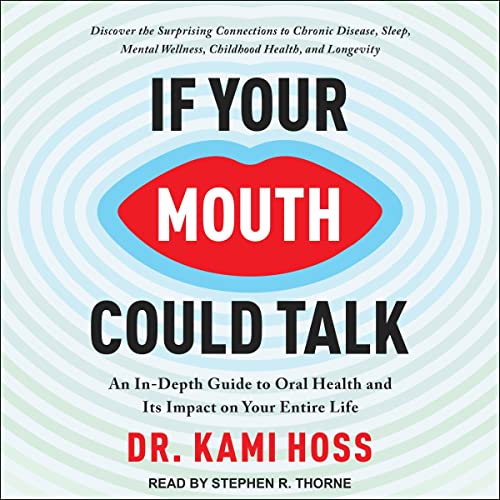 Narrated by: Stephen R. Thorne
Length: 7 hrs and 24 mins
Release date: 08-09-22
If Your Mouth Could Talk By Dr. Kami Hoss AudioBook Summary
You've heard the advice: If you want to live longer, eat healthy foods and exercise daily. But there's a third piece of the puzzle, and it can add ten to fifteen years to your life.
It's been right under your nose this whole time—literally.
Your mouth is the gateway to your body and is the most critical organ for improving your health, from childhood onward. Your mouth is a window into the health of your body as a whole; from its microbiome to its structure, it impacts your physical and mental wellness in countless ways.
Unfortunately, the mouth-body connection has been largely neglected by American medicine . . . until now.
In this groundbreaking work, Dr. Hoss connects the dots between oral health and whole-body health, offering a roadmap to a longer, more successful future for you and your family.
This isn't a book about brushing and flossing—or any of the advice you get from your dentist. Instead, you'll hear about how to protect your mouth's microbiome, the effect of diet, the relationship between oral structure and sleep problems, how to breathe better, and more.
Download
https://rg.to/file/d37ab11c716826c523cda4ed7cfe80e1/Dr.Kami_Hoss-_If_Your_Mouth_Could_Talk.zip.html