How to Host a Viking Funeral By Kyle Scheele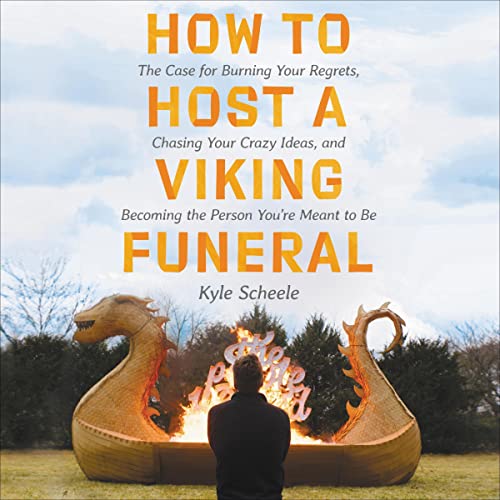 Narrated by: Kyle Scheele
Length: 5 hrs and 37 mins
Release date: 02-08-22
How to Host a Viking Funeral AudioBook Summary
An inspiring speaker and artist asked 20,000 people around the world to share the regrets they wanted him to burn in a mock Viking ship.
This is the story of what he learned about letting go of the pain of the past and embracing the future with hope.
Turning 30, artist and speaker Kyle Scheele wanted to do something unusual to mark this milestone. Instead of a birthday bash, he decided to hold a funeral to memorialize the decade of his life that was ending. Building a 16-foot Viking ship out of cardboard, he invited friends to help him set it on fire – a symbolic farewell to his 20s and all the grief, regret, and mistakes that accompanied those years.
When video of his Viking funeral went viral, it encouraged many others to let go of past hurts as well. Moved by the response he received, Kyle planned a second funeral (this time with a 30-foot cardboard Viking ship) and asked people to share the things they carried – the bad choices, disappointments, heartaches, and negative thinking that they wanted to lay to rest. He received more than 20,000 responses from around the world – stories both heartbreaking and hilarious, painful and inspiring.
In this entertaining and wise book, Kyle reflects on what he discovered about freeing ourselves from the pain of the past, interweaving anecdotes from those who participated with the story of his own journey of renewal. "This story involves multiple Viking funerals, thousands of square feet of cardboard, and enough hot glue to supply your mother-in-law's craft night for the rest of time," he writes. "But it also involves regret, self-doubt, insecurity, and ultimately, redemption. So buckle up. It's about to get bumpy."
Download
https://rg.to/file/0e6415ab0ae163cbe626c6f4e4498ca7/Kyle_Scheele_-_How_to_Host_a_Viking_Funeral.mp3.html