How Are You, Really? By Jenna Kutcher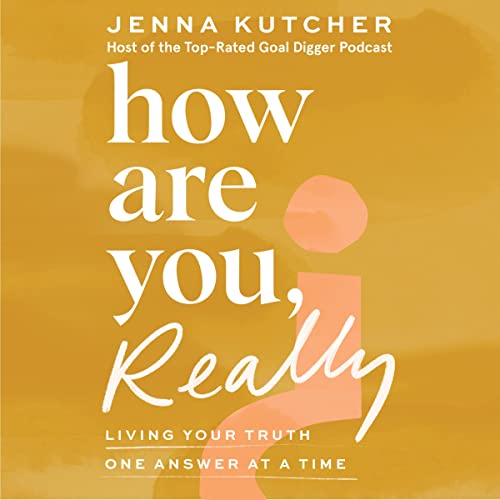 Narrated by: Jenna Kutcher
Length: 9 hrs and 7 mins
Release date: 06-28-22
How Are You, Really? By Jenna Kutcher AudioBook Summary
Forget hustle harder. Forget that 5 am wake-up. Forget outlining your life plan in six-month, one-year, and five-year spans. Collectively, the recent history we have lived through has forced a cultural shift, a reframing of our perspective around what work is for, what work/life balance really means, and how we want to spend our time on the planet. In her first book, Jenna Kutcher—entrepreneur, photographer, Instagram influencer, teacher, mom, and host of the wildly popular Goal Digger podcast—shares her philosophy on how to live a life that exists outside the tired cliché of "having it all". How Are You, Really? is about taking a moment to soak up the richness of the experience and creating a life that allows for that.
When Jenna Kutcher was 22, she left her corporate job, bought a camera on Craigslist for $300, and started her own business as a wedding photographer. From that single investment in herself, she built a successful company, a thriving podcast, a brand. But her driving force is never about working harder/smarter/faster/better. What Jenna Kutcher embraces is the simple notion that we, women especially, crave lives of fulfillment, lives of enrichment. That comes from investing, first and most importantly in ourselves and in our dreams. How to make that investment successfully is what How Are You, Really? is about.
Divided into three sections, How Are You, Really? is a path to coming home to yourself, following what your intuition may have been quietly telling you to do for a long time, and the practical tools for how to make changes for the better.
In Part One: Who You Are, Jenna uses stories from her childhood, some career false starts, her marriage and path to motherhood, and more to show how to crystallize your sense of your own identity. Because how can you know what you really, truly want out of your life if you don't see yourself clearly?
In Part Two: Who You Have, and Who Has You, Jenna shows the benefit of building a support system, how mentorship and kindness can come in surprising ways and from surprising sources, and how by giving yourself in this way to others, you grow.
In Part Three: What You're Going to Do About It, Jenna guides you through illustrations from her career on how to turn your dearest and deepest wish, your goal, into a life that brings success, joy, and—most importantly—the time to enjoy the fruits of your labor.
Download
https://rg.to/file/045e0553bdfa6e0b2e8123c69470b378/Jenna_Kutcher_-_How_Are_You_Really.zip.html