Hot Science Bundle: The Future of Computer Science By Brian Clegg, Yorick Wilks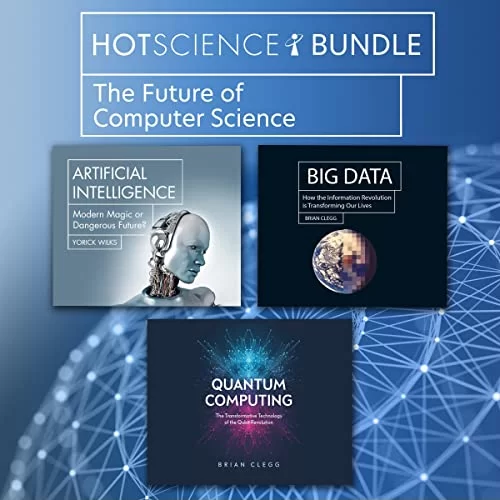 Narrated by: Qarie Marshall, Barnaby Edwards, Hannibal Hills
Length: 14 hrs and 19 mins
Release date: 11-08-22
Hot Science Bundle: The Future of Computer Science By Brian Clegg, Yorick Wilks AudioBook Summary
Entertaining and enlightening, this collection is an insightful guide to how computer science shapes and influences not just our day-to-day lives but also our future.
Quantum Computing
Computer technology has improved exponentially over the last fifty years, but the headroom for bigger and better electronic solutions is running out. Our best hope is to engage the power of quantum physics. In this approachable introduction, Brian Clegg explains algorithms and their quantum counterparts, explores the physical building blocks and quantum weirdness necessary to make a quantum computer, and uncovers the capabilities of the current generation of machines.
Big Data
The volumes of data we now access can give unparalleled abilities to make predictions, respond to customer demand, and solve problems, but Big Brother's shadow hovers over it. Though big data can set us free and enhance our lives, it has the potential to create an underclass and a totalitarian state. With big data ever-present, you can't afford to ignore it. Acclaimed science writer Brian Clegg brings big data to life.
Download
https://rg.to/file/026f14ccb7e00344b53455dfe5cbde86/Brian_Clegg,Yorick_Wilks-_Hot_Science_Bundle_The_Future_of_Computer_Science.zip.html