Hot Science Bundle: Exploring Space By Andrew May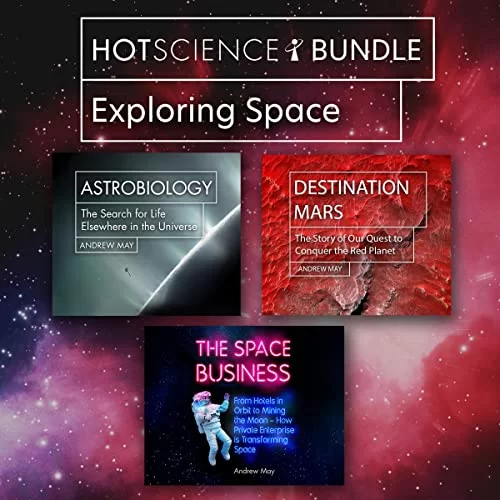 Narrated by: Qarie Marshall, Barnaby Edwards, Hannibal Hills
Length: 13 hrs and 36 mins
Release date: 11-08-22
Hot Science Bundle: Exploring Space By Andrew May AudioBook Summary
In this bundle, three Hot Science titles by astrophysicist Andrew May take a deep dive into space exploration and our continued and evolving fascination with the cosmos.
Astrobiology
The possibility of life elsewhere in the cosmos is one of the most profound subjects that human beings can ponder. May gives an expert overview of our current state of knowledge, looking at how life started on Earth, the tell-tale signatures it produces, and how such signatures might be detected elsewhere in the Solar System or on the many exoplanets now being discovered by the Kepler and TESS missions.
Destination Mars
Decades after Apollo landed on the moon and Viking 1 landed on Mars, the Red Planet is now the prime destination for future human expansion and colonization. But what's it really like on Mars, and why should anyone want to go there? How do you get there and what are the risks? May answers these questions and more as he traces the history of our fascination with the Red Planet.
The Space Business
Even before Apollo 11 landed on the Moon, private companies were exploiting space via communication satellites—a sector that is seeing exponential growth in the internet age. Billionaire entrepreneurs have long trumpeted plans to make space travel a possibility for ordinary people. Other companies plan to mine the Moon for helium-3 or asteroids for precious metals. May provides an in-depth look at the triumphs and heroic failures of these quixotic quests to commercialize the final frontier.
Download
https://rg.to/file/11a2e5b06c1a9e1f8a7404437e69292d/Andrew_May_-_Hot_Science_Bundle_Exploring_Space.zip.html