Holding the Line By Ronny Jackson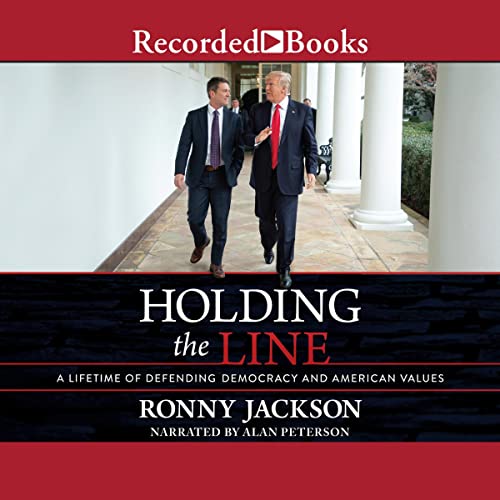 Narrated by: Alan Peterson
Length: 5 hrs and 16 mins
Release date: 07-26-22
Holding the Line By Ronny Jackson AudioBook Summary
A behind-the-scenes political memoir written by a prominent White House physician.
I would talk to the president before the chief of staff even saw the president in the morning. I walked into work, and I was already in the Oval Office talking to President Trump.
It was rarely medical, to be honest with you; it was whatever was going on in the news. I'd be the first person he'd see in the morning. The president was completing tasks two to three hours before anybody else showed up in the West Wing to work. He'd get up at five o'clock in the morning and would be watching TV, tweeting, making phone calls, and doing all types of other tasks.
President Trump would poke his head into my office or I'd walk out, and we would say, "Good morning. Did you see this or that?" He was always asking me about things on TV and what was going on, from Iran to Stormy Daniels.
He'd say, "Walk with me." So I'd walk him to the Oval Office, and we'd talk about everything. I'd walk out through the outer Oval Office and the chief of staff, national security advisor, and even the CIA briefer would be standing there, waiting to get in and talk to him. I'd walk out, they'd walk in, and his day would start. I was the first person he saw every morning and the last person he saw every evening when he went to bed.
Download
https://rg.to/file/b461e6d5caff43a8c6cc6f2954c7dfe4/Ronny_Jackson_-_Holding_The_Line.zip.html