High Ten By Martin Rooney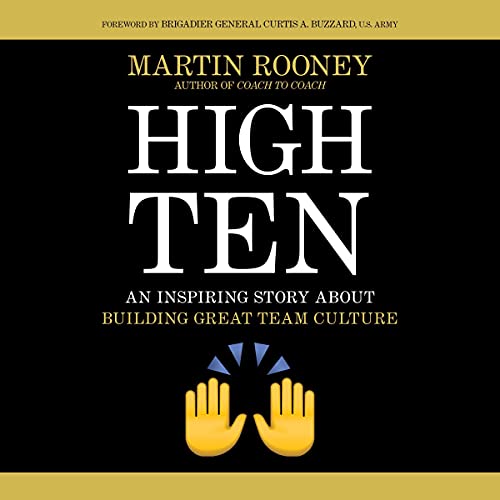 Narrated by: Eric Jason Martin
Length: 6 hrs and 25 mins
Release date: 07-20-21
High Ten AudioBook Summary
In High Ten: An Inspiring Story About Building Great Team Culture, Martin Rooney draws from his extensive experience developing top-level teams around the world to help leaders of all kinds foster and sustain winning cultures. This engaging parable shows you that every business, sports team, and family has a culture. Whether you deliberately created it or not, it's always there, and it didn't come with a manual. That's where High Ten comes in. This must-have book is your personal leadership manual. Stop spending your day unhappy or complaining about a dream that hasn't come true. High Ten will help you:
Create an environment where your people work toward common goals with friends they trust – and have fun doing it;
Develop clarity about the culture you want and put the processes in place to make it happen;
Ensure your culture reflects core values and aligns with your organization's mission and vision;
Transform your culture into the "immune system" for your team or business;
And learn about the "3 Cornerstones of Culture" and eliminate the "5 Culture Killers".
High Ten: An Inspiring Story About Building Great Team Culture is an invaluable resource for all coaches and leaders striving to achieve the highest level of culture – one where everyone feels like a valuable part of the team and consistently produces exceptional results.
Download
https://nitro.download/view/89A99024545A156/Martin_Rooney_-_High_Ten.zip
https://rg.to/file/091269951377e9a804c1f2c0029f3c31/Martin_Rooney_-_High_Ten.zip.html