Henrietta Maria By Leanda de Lisle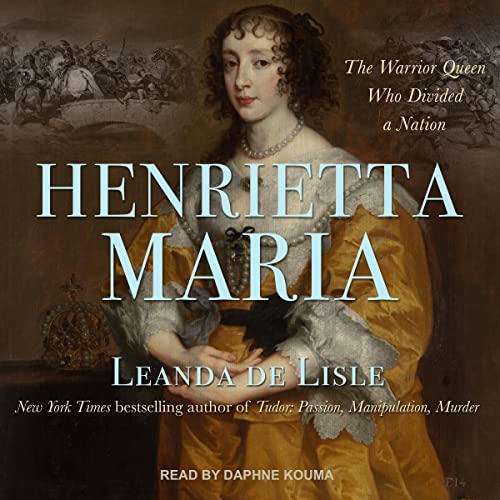 Narrated by: Daphne Kouma
Length: 12 hrs and 44 mins
Release date: 09-06-22
Henrietta Maria By Leanda de Lisle Audio Book Summary
Henrietta Maria is British history's most reviled queen consort. Condemned in her lifetime as the "Popish brat of France," an adulteress, and a traitor, she remains in popular memory the wife who wore the breeches in her marriage, the woman who turned her husband Catholic (and so caused the English Civil War), and a cruel and bigoted mother.
This clear-eyed biography unpicks the myths and considers the story from Henrietta Maria's point of view. A portrait emerges of a woman whose closest friends included Puritans as well as Catholics, who crossed swords with Cardinal Richelieu, and led the anti-Spanish faction at the English court. A witty conversationalist, Henrietta Maria was a patron of the arts and a champion of the female voice, as well as a mediatrix for her persecuted fellow Catholics.
During the civil war, the queen's enemies agreed that Charles would never have survived as long as he did without the "She Generalissimo." Seeing events through her gaze reveals the truth behind the claims that she caused the war, explains her estrangement from her son Henry, and diminishes the image of the Restoration queen as an irrelevant crone. In fact, Henrietta Maria rose from the ashes of her husband's failures—a "phoenix queen"—presiding over a court judged to have had "more mirth" even than that of the Merry Monarch, Charles II.
Download
https://rg.to/file/274bc425194e43d319b9cbe7561415f5/Leanda_de_Lisle_-_Henrietta_Maria.zip.html