Hello, Goodbye By Day Schildkret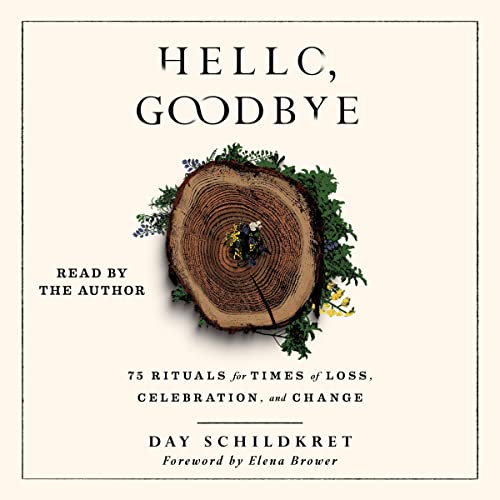 Narrated by: Day Schildkret
Length: 15 hrs and 42 mins
Release date: 01-25-22
Hello, Goodbye AudioBook Summary
Embrace the power of ritual with simple practices that slow us down to honor and mark the real moments in our lives – from the loss of a parent to the birth of a child, from grieving a pet to celebrating coming out of the closet.
Life has many transitions: A baby is born. A child leaves for college. A marriage. A divorce. A death. We all experience moments of profound change, but what do we do to mark those moments? How do we become mindful of these events and imbue them with purpose and meaning? Could our lives be better, richer, and more resilient if we had more practical resources and rituals to honor, sanctify, and make sense of these transitions?
Day Schildkret, artist and author behind the international Morning Altars movement, believes that what we need is ritual. Rituals are the rhythms and traditions that give us a sense of stability in the face of uncertainty by reminding us that there's always something we can do, say or make that conjures awe, contentment, and gratitude. They give us a way to acknowledge through our actions that, as life changes, we, too, must change.
Download
https://rg.to/file/0ae329e41b0a17de464f6d4602fe4d54/Day_Schildkret_-_Hello,_Goodbye.mp3.html