Hedgewitch By Terry Mancour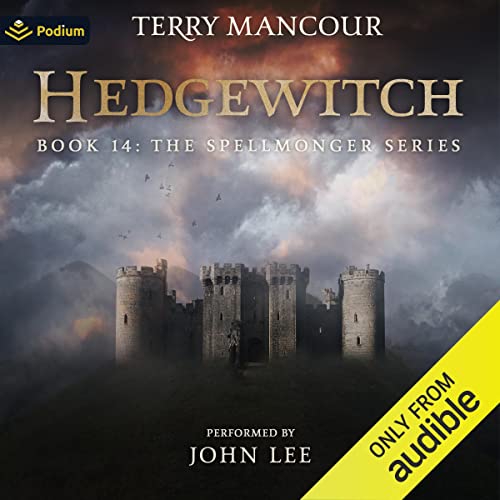 Narrated by: John Lee
Series: Spellmonger, Book 14
Length: 20 hrs and 48 mins
Release date: 02-01-22
Hedgewitch AudioBook Summary
Secret societies and civil war….
After Alshari Court Wizard Pentandra survives her third assassination attempt in the Tower of Sorcery, she sends her deputy, Sir Rondal, to investigate the mysterious origins of the attempt while she contends with Alshari court politics. Matters come to a head when he and Kitten rescue an old woman and her grandson from certain death…only to discover she is the lost hedgewitch who gave Pentandra a book of secret prophecies about the future.
The tension rising in southern Alshar seems to break when the Duke and Duchess announce the relocation of the court to the summer capital of Vorone for a season. Pentandra intends to relax and manage her lands for the summer, safely away from assassins and undead. But her friend and liege, Minalan the Spellmonger, announces that he's taking the summer off, too, dumping the responsibilities for leadership on her overburdened shoulders while he journeys on an expedition of exploration. What could possibly go awry?
Within days of the Spellmonger leaving, the Kingdom is plunged into a civil war between the knights of the kingdom, led by Prince Tavard, and the nascent power of the magi, led by Viscount Terleman.  As the battles play out in rapid-fire fashion across Gilmora and the Wilderlands, Pentandra increasingly finds herself losing control of the situation. Not even the return of the Spellmonger from his expedition could be much help, as he has changed in ways that disturb both Pentandra and Ronda….  
Download
https://nitro.download/view/CE72B4DADBB523C/Terry_Mancour_-_Hedgewitch.m4b
https://rg.to/file/a9d2289032a0f5827ff3e1ada00ecbb8/Terry_Mancour_-_Hedgewitch.m4b.html