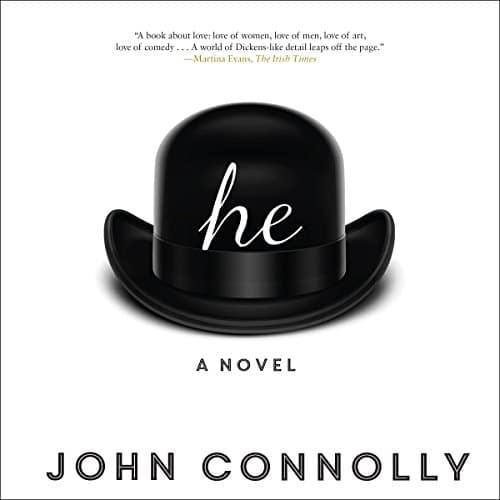 Narrated by: Simon Slater
Length: 11 hrs and 29 mins
Release date: 07-23-18
He AudioBook Summary
John Connolly brings Stan Laurel to life in this extraordinary novel about the comedian's wildly successful and tender partnership with Oliver Hardy during the anarchy of early Hollywood
John Connolly conjures the Golden Age of Hollywood in this moving, literary portrait of two men who find their true selves in a comedic partnership. When Stan Laurel is paired with Oliver Hardy, affectionately known as Babe, the history of comedy – not to mention their personal and professional lives – is altered forever.
Yet Laurel's simple screen persona masks a complex human being, one who endures rejection and intense loss; who struggles to build a character from the dying stages of vaudeville to the seedy and often volatile movie studios of Los Angeles in the early years of cinema; and who is haunted by the figure of another comic genius, the brilliant, driven, and cruel Charlie Chaplin.
Eventually, Laurel becomes one of the greatest screen comedians the world has ever known: a man who enjoys both adoration and humiliation; who loved, and is loved in turn; who betrays, and is betrayed; who never seeks to cause pain to anyone else, yet leaves a trail of affairs and broken marriages in his wake.
But Laurel's life is ultimately defined by one relationship of such astonishing tenderness and devotion that only death could sever this profound connection: his love for Babe. Shot through with the competing themes of loyalty and heartbreak, ambition and selflessness, artistry and compromise, this novel is an unforgettable testament to the redemptive power of love, as experienced by one of the 20th century's greatest performers.
File Size: 388.67 MB
Download
https://rg.to/file/aba39048bcd2ca5803f3f4f2931848e1/John_Connolly_-_He.zip.html