HBR's 10 Must Reads 2023 By Harvard Business Review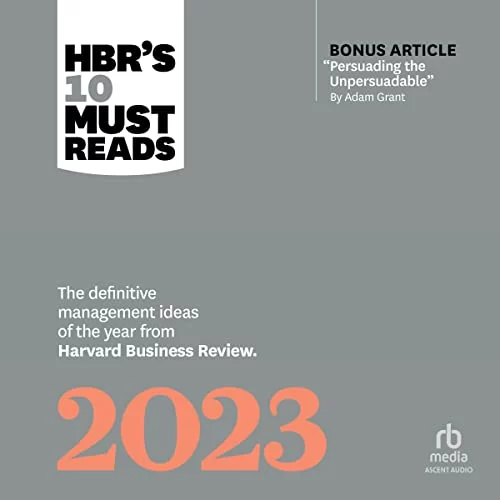 Narrated by: Mike Lenz, Rachel Perry
Length: 6 hrs and 16 mins
Release date: 10-18-22
HBR's 10 Must Reads 2023 By Harvard Business Review AudioBook Summary
We've reviewed the ideas, insights, and best practices from the past year of Harvard Business Review to keep you up to date on the most cutting-edge, influential thinking driving business today. With authors from Francesca Gino to Adam Grant and company examples from Pfizer to Microsoft, this volume brings the most current and important management conversations right to your fingertips.
This book will inspire you to: adopt the best practices for creating a truly flexible workplace; refocus your strategy to prioritize the few initiatives with the greatest potential impact; navigate the challenges of role transitions—and learn how those in changing roles can get up to speed faster; implement diversity training that will help employees overcome bias and commit to improvement; overcome roadblocks during the innovation process so rapid experimentation will pay off; and lead with a commitment to sustainability.
This collection of articles includes "The Future of Flexibility at Work," by Ellen Ernst Kossek, Patricia Gettings, and Kaumudi Misra; "Eliminate Strategic Overload," by Felix Oberholzer-Gee; "Drive Innovation with Better Decision-Making," by Linda A. Hill, Emily Tedards, and Taran Swan; "Unconscious Bias Training that Works," by Francesca Gino and Katherine Coffman; and more.
Download
https://rg.to/file/5cbb3968df3ae74bbb728c5fd0f15f93/Harvard_Business_Review_-_HBR's_10_Must_Reads_2023.zip.html