Great Minds of the Western Intellectual Tradition 3rd Edition By The Great Courses, Alan Charles Kors, Darren Staloff, Dennis Dalton, Douglas Kellner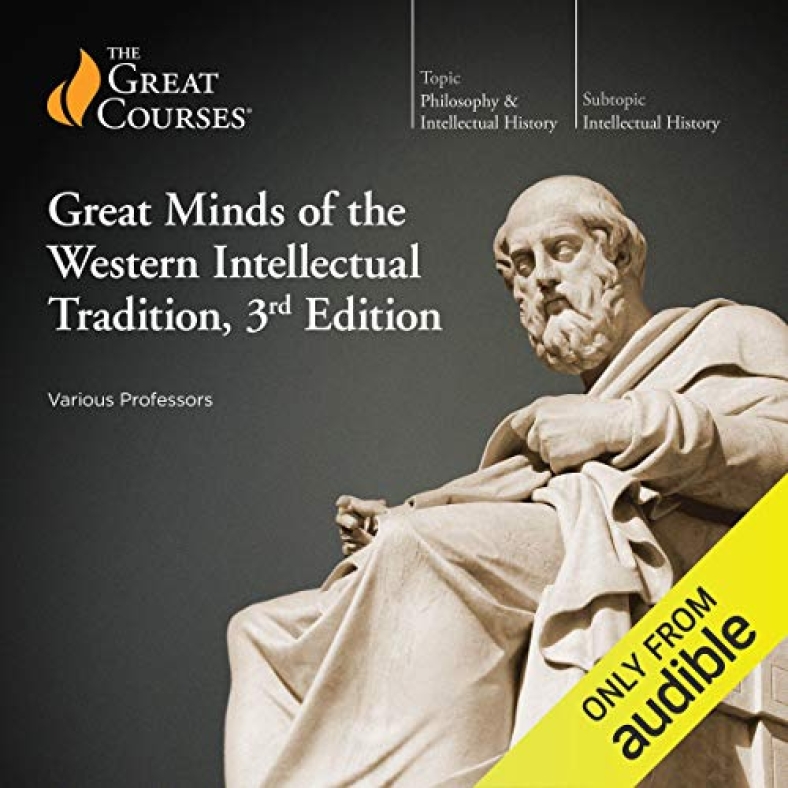 Narrated by: Alan Charles Kors, Darren Staloff, Dennis Dalton, Douglas Kellner
Series: The Great Courses: Intellectual History
Length: 43 hrs and 41 mins
Release date: 07-08-13
Great Minds of the Western Intellectual Tradition 3rd Edition AudioBook Summary
For 3,000 years, mankind has grappled with fundamental questions about life. What is real? Who or what is God? When is it legitimate for one person to have power over others? What is justice? Beauty?
This 84-lecture, 12-professor tour of Western philosophical tradition covers more than 60 of history's greatest minds and brings you a comprehensive survey of the history of Western philosophy from its origins in classical Greece to the present.
It took 3,000 years for the debate chronicled in these lectures to reach maturity.
With this series of lectures, you can encompass it by the end of next month. You'll travel chronologically through the history of the Western world, charting the intriguing development of Western philosophy and drawing fascinating connections between thinkers separated by the gulf of time and space. You'll acquaint yourself with the Greek Pre-Socratics (the world's first scientific thinkers) and examine in detail the insights of three towering figures: Socrates, his student Plato, and Plato's student, Aristotle.
You'll examine the contributions to philosophy from biblical traditions and the great minds of the Christian age. Then, you'll mark the critical schism that developed between the claims of faith and those of science and participate in the breathless discovery found during the Enlightenment, which reveled in the new freedom of human potential and scientific expansion. You'll study the provocative philosophical responses (by the Existentialists and others) to the challenges raised by the new scientific consciousness. And you'll conclude with an overview of the work of Derrida and other late 20th-century philosophers and theorists.
File Size: 593.07 MB
Download
https://rg.to/file/8e933abac867b4a4fb52899a17905662/The_Great_Courses,Alan_Charles_Kors,_Darren_Staloff,_Dennis_Dalton,_Douglas_Kellner-_Great_Minds_of_the_Western_Intellectual_Tradition,_3rd_Edition.zip.html