Great British Trials Box Set By Mr Punch Audiobooks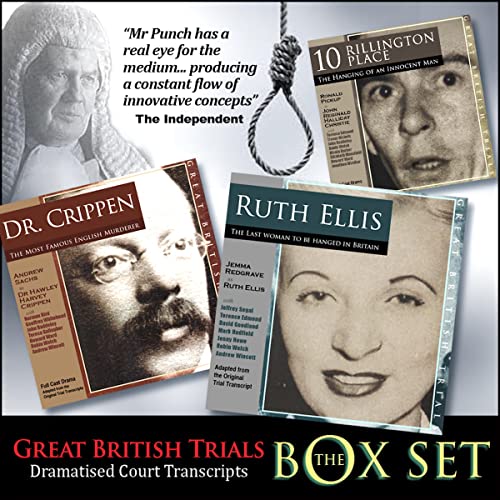 Narrated by: Ronald Pickup, Jemma Redgrave, Andrew Sachs, full cast
Length: 8 hrs and 6 mins
Release date: 05-06-22
Great British Trials Box Set By Mr Punch Audiobooks AudioBook Summary
The series Great British Trials provides a fascinating glimpse into some of the most notorious crimes and trials of the last 500 years. Using the original trial transcripts, eyewitness accounts and contemporary newspaper reports, we witness the actual events that made each trial a cause célèbre of its day.
The Trial of Ruth Ellis – The Last Woman to Be Hanged
At 9 a.m. on Wednesday, 13th July 1955, Ruth Ellis became the last woman to hang in Britain. Convicted of shooting her unfaithful lover, David Blakeley, in cold blood, as he stood by his sports car on Easter Sunday—the calm and dignified court appearance of this mother of two young children and the furore that accompanied her sentence, ensured that this trial was to have a memorable place in the annals of British justice. Starring Jemma Redgrave as Ruth Ellis, with Terence Edmond, David Goodland, Mark Hadfield, Jenny Howe, Jeffrey Segal, Robin Welch and Andrew Wincott
The Trial of Dr Crippen – The Most Famous English Murderer
Mild-mannered Dr Hawley Harvey Crippen committed one of the most notorious English murders of the 20th century. In early 1910, he dismembered his wife's body and buried the remains in the coal cellar of the house they shared in Hilldrop Crescent, London. Arrested with his lover, Ethel Le Neve, who was disguised as his son, as they tried to escape to Canada aboard the SS Montrose. His subsequent trial at the Old Bailey was expected to be a mere formality, but Dr Crippen pleaded 'Not Guilty!', and so begins this strangely moving tale of passion and despair. Starring Andrew Sachs as Dr Hawley Harvey Crippen, with Norman Bird, John Baddeley, Geoffrey Whitehead, Teresa Gallagher, Howard Ward, Robin Welch and Andrew Wincott.
Download
https://rg.to/file/2580bf6007d3b24e740ea5ceae551691/Mr_Punch_Audiobooks_-_Great_British_Trials_Box_Set.m4b.html