Gods of War By James Lacey, Williamson Murray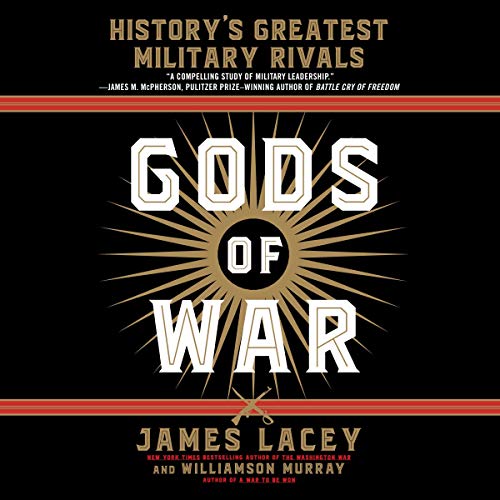 Narrated by: Rick Adamson
Length: 14 hrs and 49 mins
Release date: 05-19-20
Gods of War AudioBook Summary
Hannibal vs. Scipio. Grant vs. Lee. Rommel vs. Patton. The greatest battles, commanders, and rivalries of all time come to life in this engrossing guide to the geniuses of military history.
"A compelling study of military leadership." (James M. McPherson, Pulitzer Prize-winning author of Battle Cry of Freedom)
Any meeting of genius may create sparks, but when military geniuses meet, their confrontations play out upon a vast panorama of states or civilizations at war, wielding the full destructive power of a mighty nation's armies. Gods of War is the first single-volume, in-depth examination of the most celebrated military rivalries of all time, and of the rare, world-changing battles in which these great commanders in history matched themselves against true equals.
From Caesar and Pompey deciding the fate of the Roman Republic, to Grant and Lee battling for a year during the American Civil War, to Rommel and Montgomery and Patton meeting in battle after battle as Hitler strove for European domination, these match-ups and their corresponding strategies are among the most memorable in history.
File Size: 378.06 MB
Download
https://rg.to/file/325d353a1b621ab8a248d3e8d62ef7fd/James_Lacey,Williamson_Murray-_Gods_of_War.zip.html