Girl Waits with Gun | Amy Stewart | AudioBook Download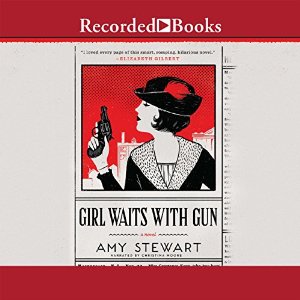 Girl Waits with Gun By Amy Stewart AudioBook Download
Written by: Amy Stewart
Narrated by: Christina Moore
Length: 10 hrs and 54 mins 
Series: Kopp Sisters, Book 1
Unabridged Audiobook
Release Date:09-01-15
Publisher: Recorded Books
Girl Waits with Gun AudioBook Summary
In 1914 collisions between motor cars and horse-drawn carriages are an everyday occurrence on the streets of Paterson, New Jersey. But when an out-of-control driver smashes into a buggy driven by Constance, Norma, and Fleurette Kopp, their lives change forever. Constance, the oldest, demands payment for the damages but quickly realizes that she is dealing with a madman – Henry Kaufman, a silk manufacturer with a drinking problem and a dangerous group of associates.
Soon the Kopp home is under siege. The sisters face threats of arson, kidnapping, and white slavery. Bricks come flying through their windows, and shots are fired at their house late at night. Even the sheriff can't solve the case on his own. He issues revolvers to the Kopp sisters, posts guards at their house, and enlists Constance's help in catching Kaufman. In the process Constance finds herself pulled into an underworld of abused factory workers, missing children, and dirty dealings.
Her attempts to help another woman in trouble forces her to confront her own past and imagine a different future for herself and her sisters. Before the collision, she was just a bored 35-year-old woman living at home with her sisters in the New Jersey countryside, stuck in a life she didn't want but couldn't escape. But the minute Constance is issued a gun, she finds her calling.
Set against the backdrop of the famous Paterson Silk Strike and based on actual events, Girl Waits with Gun is the first in a series of novels based on the real life adventures of Constance, Norma, and Fleurette Kopp. Drawing on extensive research into newspaper reports, courthouse files, genealogical archives, and letters, this intriguing story remains true to the historical record.
File Size: 276.83 MB
Format: MP3
Download
http://rapidgator.net/file/907670d1e0b51feb7c9a435ebd0767f9/Amy_Stewart_-_Girl_Waits_with_Gun_1.mp3.html