Gangsters vs. Nazis By Michael Benson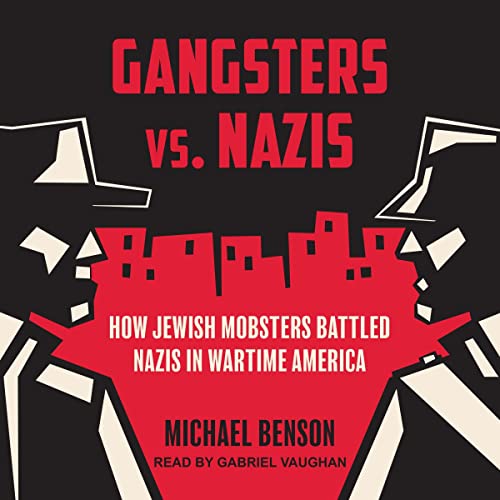 Narrated by: Gabriel Vaughan
Length: 8 hrs and 53 mins
Release date: 04-26-22
Gangsters vs. Nazis AudioBook Summary
As Adolph Hitler rose to power in 1930s Germany, a growing wave of fascism began to take root on American soil. Nazi activists started to gather in major American cities, and by 1933, there were more than one hundred anti-Semitic groups operating openly in the United States. Few Americans dared to speak out or fight back—until an organized resistance of notorious mobsters waged their own personal war against the Nazis in their midst. Gangland-style . . .
In this thrilling blow-by-blow account, acclaimed crime writer Michael Benson uncovers the shocking truth about the insidious rise of Nazism in America—and the Jewish mobsters who stomped it out.
Packed with surprising, little-known facts, graphic details, and unforgettable personalities, Gangsters vs. Nazis chronicles the mob's most ruthless tactics in taking down fascism-inspiring ordinary Americans to join them in their fight. The book culminates in one of the most infamous events of the pre-war era-the 1939 Nazi rally in Madison Square Garden—in which law-abiding citizens stood alongside hardened criminals to fight for the soul of a nation. This is the story of the mob that's rarely told—and one of the most fascinating chapters in American history. And American organized crime.
Download
https://rg.to/file/9fc260bcb6880f364e307e8603a559f1/Michael_Benson_-_Gangsters_vs_Nazis.zip.html