From Strength to Strength By Arthur C. Brooks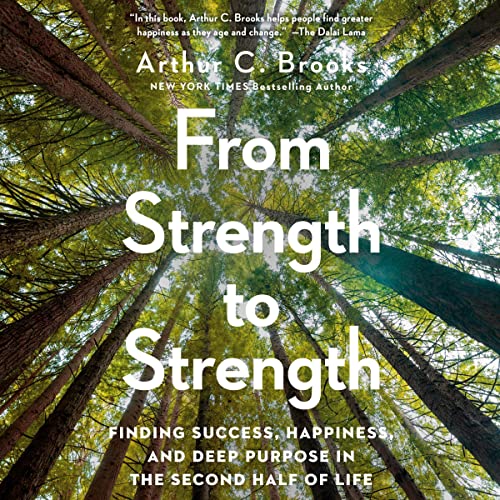 Narrated by: Arthur C. Brooks
Length: 5 hrs and 49 mins
Release date: 02-15-22
From Strength to Strength AudioBook Summary
The road map for finding purpose, meaning, and success as we age, from best-selling author, Harvard professor, and The Atlantic's happiness columnist Arthur Brooks.
Many of us assume that the more successful we are, the less susceptible we become to the sense of professional and social irrelevance that often accompanies aging. But the truth is the greater our achievements and our attachment to them, the more we notice our decline, and the more painful it is when it occurs.
What can we do, starting now, to make our older years a time of happiness, purpose, and yes, success?
At the height of his career at the age of 50, Arthur Brooks embarked on a seven-year journey to discover how to transform his future from one of disappointment over waning abilities into an opportunity for progress. From Strength to Strength is the result, a practical road map for the rest of your life.
Download
https://rg.to/file/cccc04b30943ea8547d55d20b1f49e0d/Arthur_C.Brooks-_From_Strength_to_Strength.zip.html