Flip-Flops and Fortunes By Brady Johns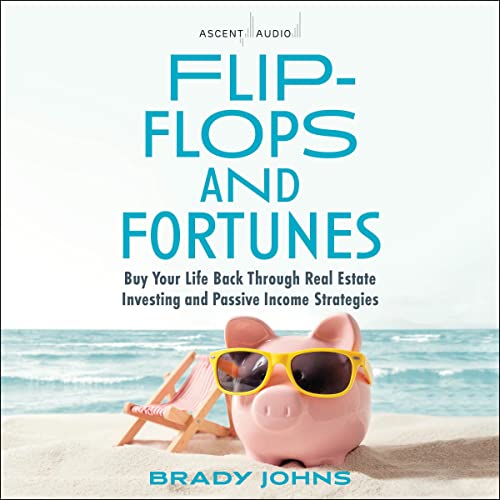 Narrated by: Chris Abernathy
Length: 5 hrs and 12 mins
Release date: 08-16-22
Flip-Flops and Fortunes By Brady Johns AudioBook Summary
In Flip-Flops and Fortunes, Brady Johns teaches you how to accumulate wealth in ways that energize rather than drain you.
The world has enough cutthroat, hypercompetitive, and exhausted millionaires. You can gain that fortune without all that toil-making money work for you on the way to finding security and happiness, wealth, and joy.
Brady Johns was tired of spending countless hours staring at the three walls of his cubicle at his job in the tech world. He craved adventure, travel, and the ability to do big, generous things for the people he loved. So he decided to take his fate into his own hands and build the life he wanted, brick by brick.
In Flip-Flops and Fortunes, he shows you how to do the same through a combination of real estate investing and passive income strategies. These are the strategies that have enabled Brady to travel to the world's favorite islands, climb the highest mountains, and live on the millions of dollars he brings in each year in passive income. He believes anyone can do what he's done.
Download
https://rg.to/file/30eda875efc3a6df84e4023afeed2e9c/Brady_Johns_-_Flip-Flops_and_Fortunes.zip.html