Equal Rites By Terry Pratchett Narrated By Bill Nighy (2022 Edition)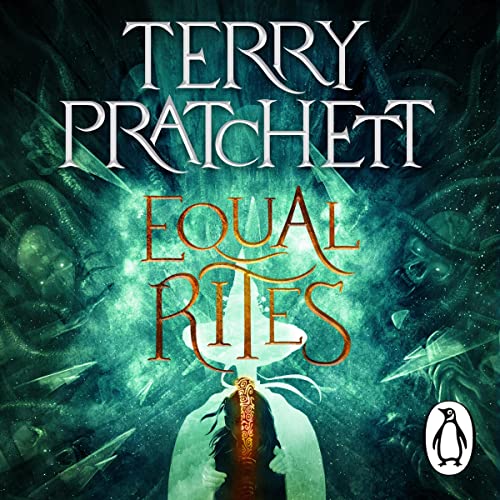 Narrated by: Indira Varma, Peter Serafinowicz, Bill Nighy
Series: Discworld: Witches, Book 1, Discworld, Book 3
Length: 7 hrs and 27 mins
Release date: 04-28-22
Equal Rites By Terry Pratchett AudioBook Summary
The audiobook of Equal Rites is narrated by Indira Varma (Game of Thrones; Luther; This Way Up). BAFTA and Golden Globe award-winning actor Bill Nighy (Love Actually; Pirates of the Caribbean; Harry Potter and the Deathly Hallows) reads the footnotes, and Peter Serafinowicz (Star Wars: Episode I – The Phantom Menace; Shaun of the Dead) stars as the voice of Death. Featuring a new theme tune composed by James Hannigan.
'They say that a little knowledge is a dangerous thing, but it is not one half so bad as a lot of ignorance.'
Everybody knows there's no such thing as a female wizard. So when the wizard Drum Billet accidentally passes on his staff of power to an eighth daughter of an eighth son, a girl called Eskarina (Esk, for short), the misogynistic world of wizardry wants nothing to do with her.
Thankfully Granny Weatherwax, the Discworld's most famous witch, has plenty of experience ignoring the status quo. With Granny's help, Esk sneaks her way into the magical Unseen University and befriends apprentice wizard Simon.
Download
https://rg.to/file/57eb70af224f9fc33aed51d76448a8e9/Terry_Pratchett_-_Equal_Rites.zip.html