Empire of the Scalpel By Ira Rutkow MD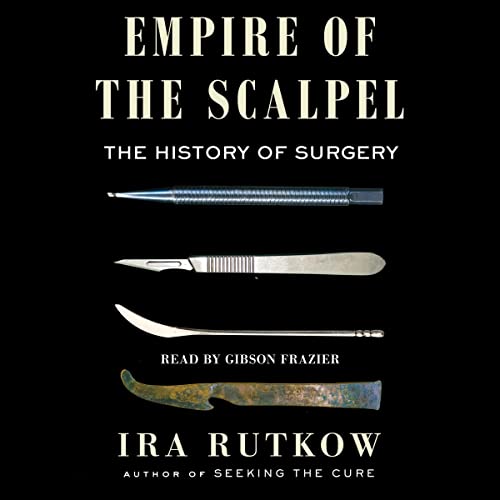 Narrated by: Gibson Frazier
Length: 15 hrs and 22 mins
Release date: 03-08-22
Empire of the Scalpel AudioBook Summary
From a renowned surgeon and historian with five decades of experience comes a remarkable history of surgery's development – spanning the Stone Age to the present day – blending meticulous medical studies with lively and skillful storytelling.
There are not many events in life that can be as simultaneously life-frightening and life-saving as a surgical operation. Yet, in America, tens of millions of major surgical procedures are performed annually, but few of us pause to consider the magnitude of these figures because we have such inherent confidence in surgeons. And, despite passionate debates about healthcare and the endless fascination with surgical procedures, most of us have no idea how surgeons came to be because the story of surgery has never been fully told. Now, Empire of the Scalpel elegantly reveals the fascinating history of surgery's evolution from its earliest roots in Europe through its rise to scientific and social dominance in the United States.
From the 16th-century saga of Andreas Vesalius and his crusade to accurately describe human anatomy while appeasing the conservative clergy who clamored for his burning at the stake, to the hard-to-believe story of late-19th-century surgeons' apathy to Joseph Lister's innovation of antisepsis and how this indifference led to thousands of unnecessary surgical deaths, Empire of the Scalpel is both a global history and a uniquely American tale. You'll discover how in the 20th century the US achieved surgical world supremacy heralded by the Nobel Prize-winning, seemingly impossible feat of transplanting a kidney and how the heart-lung machine was developed, along with much more.
Download
https://rg.to/file/ecf249fbad272c7c48cd8e6b75b53de5/Ira_Rutkow_MD_-_Empire_of_the_Scalpel.zip.html