Eat It! By Jordan Syatt, Michael Vacanti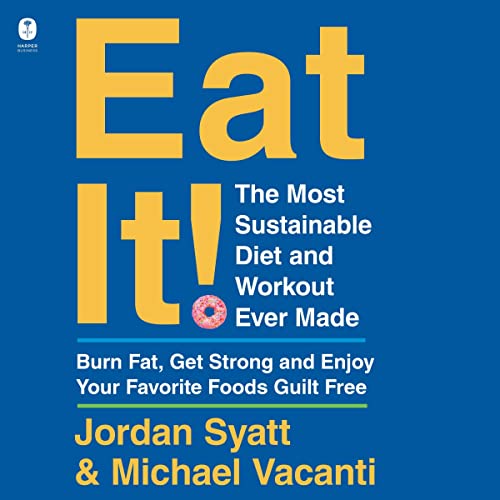 Narrated by: Jordan Syatt, Michael Vacanti
Length: 4 hrs and 40 mins
Release date: 06-07-22
Eat It! By Jordan Syatt, Michael Vacanti AudioBook Summary
Foreword by Gary Vaynerchuk
Gary Vaynerchuk's personal trainers explain how you can enjoy your favorite foods without guilt while losing weight, getting stronger, and improving your health.
Some "experts" say, don't eat carbs because insulin makes you fat. Other "experts" say, don't eat fat because fat makes you fat. Others say, don't eat protein because protein makes you fat. Some "experts" even say you shouldn't eat fruit because sugar makes you fat. So the logical conclusion would be not to eat anything at all…except for the other "experts" who say that makes you fat because, "starvation mode".
Who should you believe? Who is right? Who is an ignoramus? And who is just trying to make a quick buck? We understand it's confusing and difficult to know who to trust, but by the end of this book you'll realize you don't need to eliminate anything from your diet. You can enjoy all your favorite foods (in moderation) while losing fat and achieving your goals.
Download
https://rg.to/file/89ca07c1c54f70c796a8484cbda6c843/Jordan_Syatt,Michael_Vacanti-_Eat_It!.zip.html