Dünkirchen 1940 By Robert Kershaw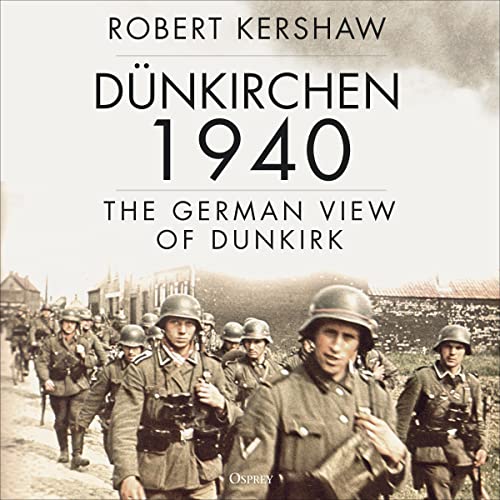 Narrated by: Richard Trinder
Length: 15 hrs and 28 mins
Release date: 09-01-22
Dünkirchen 1940 By Robert Kershaw Audio Book Summary
Bloomsbury presents Dünkirchen 1940 by Robert Kershaw, read by Richard Trinder.
Using revelatory new material on an event which changed the tide of World War II, Robert Kershaw's ground-breaking history explores the Battle of Dunkirk from the German perspective.
The British evacuation from the beaches of the small French port town of Dunkirk is one of the iconic moments of military history. The battle has captured the popular imagination through LIFE magazine photo spreads, the fiction of Ian McEwan and, of course, Christopher Nolan's hugely successful Hollywood blockbuster. But what is the German view of this stunning Allied escape? Drawing on German interviews, diaries and unit post-action reports, Robert Kershaw creates a thrilling historical account of a battle that we thought we knew.
Dünkirchen 1940 is the first major history on what went wrong for the Germans at Dunkirk. As supreme military commander, Hitler had seemingly achieved a miracle after the swift capitulation of Holland and Belgium, but with just seven kilometres before the panzers captured Dunkirk—the only port through which the trapped British Expeditionary force might escape—they came to a shuddering stop. Hitler had lost control of his stunning advance. Only a detailed interpretation of the German perspective—historically lacking to date—can provide answers as to why.
Download
https://rg.to/file/f441dd8233fe96c79272a764ae96b7f2/Robert_Kershaw_-_Dünkirchen_1940.m4b.html