Dr. Sebi 8 Books in 1 By Serena Brown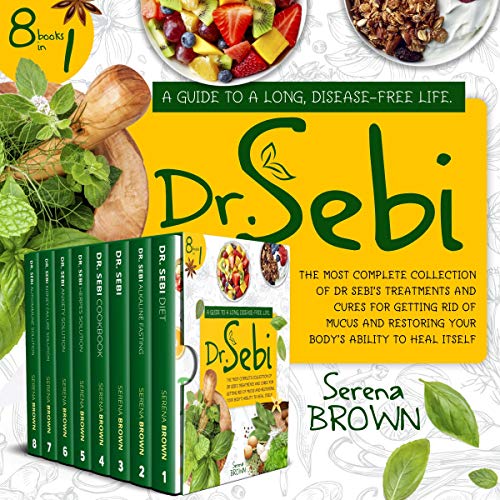 Narrated by: Tyla Shandro, Meggan Bloom
Series: Alkaline Diet – Cure for Herpes and Treatments for All Diseases
Length: 25 hrs and 28 mins
Release date: 03-17-21
Dr. Sebi 8 Books in 1 AudioBook Summary
Would you like to be able to heal yourself from most of the common diseases in a natural and long-term manner?
In this comprehensive collection, you will find anything you need to know about Dr. Sebi's treatments for common ailments such as:
High blood pressure
Type 2 diabetes
Herpes and STDs
Autoimmune diseases, like rheumatoid arthritis and lupus
Chronic kidney disease
And anxiety!
Specifically, with this guide in your hands, you will:
Clearly understand what Dr. Sebi diet is and how it works to detox your body and get rid of all the toxic waste.
Realize how important it is for your health and well-being that this diet is 100 percent natural, you do not have to take any expensive pills or drug that could toxic your body.
Have the chance to find many easy-to-make alkaline recipes ready to cook for most of the diseases this diet heals, such as diabetes and high blood pressure.
Discover Dr. Sebi's selection of specific natural herbs for healing your body from the most common diseases, including the ones that are actually considered "incurable".
And Lot More!
Transitioning away from processed foods to a more plant-based way of life can help your body function optimally.
Download
https://rg.to/file/902e69943087300ed2c775a579157125/Serena_Brown_-_Dr._Sebi_8_Books_in_1.zip.html