Discover Your Dharma By Sahara Rose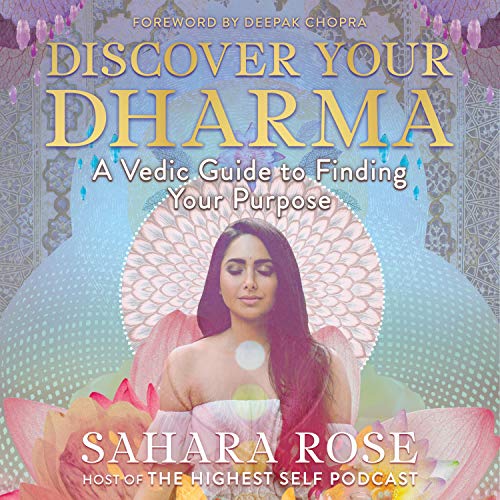 Narrated by: Sahara Rose
Length: 9 hrs and 17 mins
Release date: 05-01-21
Discover Your Dharma AudioBook Summary
Discover your soul's purpose on earth – your Dharma – and find happiness, fulfilment, and liberation with Sahara Rose's relatable guide to applying ancient Ayurvedic wisdom to modern life.
Sahara Rose wants to explain that ancient wisdom is much more applicable than ever in the modern world. In this audiobook, she explains how to live our Dharma – our soul's purpose – and why that is the key to happiness and fulfilment.
You'll find out what your ultimate purpose is and how to use it to create positive change in the world and your life. With a bonus pdf with sections to fill out and quizzes, you'll receive a truly insightful introduction to your inner soul, your dosha (energy type), and your Dharma archetype.
You'll learn about:
Your sankapala, the story of your life; how it's been holding you back and how to change it
How to recognize the signals your body has been sending you through your koshas – your intuitive layers – and how to start listening to and honoring your body, mind, and spirit
Your Dharma: This is your soul mission on earth, and could be starting a business, healing family wounds, stepping into a leadership position, or changing the world!
How to connect with your highest self, or atman, and get into a state of flow, or kriya – and ultimately, achieve a state of bliss and freedom.
File Size: 249.32 MB
Download
https://rg.to/file/84b07e8880228dd78bfadd85ba7c9c73/Sahara_Rose_-_Discover_Your_Dharma.zip.html