Detox Your Thoughts By Andrea Bonior PhD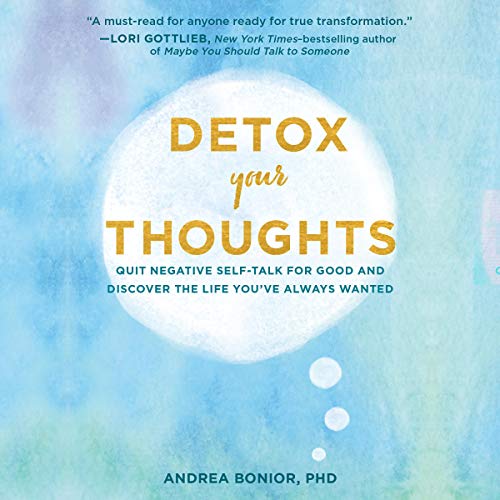 Narrated by: Andrea Bonior PhD
Length: 6 hrs and 2 mins
Release date: 05-05-20
Detox Your Thoughts AudioBook Summary
In Detox Your Thoughts, popular psychologist Andrea Bonior, PhD, identifies the 12 most prevalent thought patterns that make people feel anxious, insecure, and generally just bad.
To overcome the most common mental traps, you must completely change the way you relate to your thoughts.
If breaking free of negative thought patterns could be cured through simply thinking positively or doubling down on our self-care, we wouldn't see such epidemic rates of depression and anxiety disorders worldwide. Bonior deciphers the psychological research to help us disempower our self-sabotaging thoughts, and teaches specific and actionable ways to overcome them in a transformational listen.
Dr. Andrea Bonior is a popular psychologist and contributor to BuzzFeed and the Washington Post.
Inspired by her popular BuzzFeed challenge Detox Your Thoughts, Bonior identifies 12 mental traps that keep us locked in negative thinking.
The book explores a surprising path to break free of these harmful thoughts.
With bite-sized pop psychology takes on the thought patterns that plague most people and a practical approach to quitting negative self-talk for good, Detox Your Thoughts is a transformational read.
Download
https://rg.to/file/672a38a86e2f765844801b24adb7c8d0/Andrea_Bonior_PhD_-_Detox_Your_Thoughts.zip.html
https://nitro.download/view/1473F29EEB10434/Andrea_Bonior_PhD_-_Detox_Your_Thoughts.zip