Dark of the Moon | John Sandford | AudioBook Free Download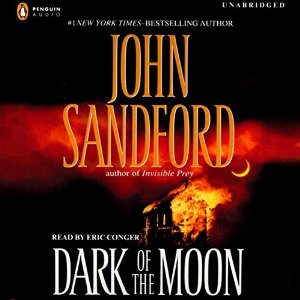 Dark of the Moon By John Sandford AudioBook Free Download
Written by: John Sandford
Narrated by: Eric Conger
Length: 10 hrs and 22 mins 
Series: Virgil Flowers, Book 1
Unabridged Audiobook
Release Date:08-23-07
Publisher: Penguin Audio
Dark of the Moon AudioBook Summary
Virgil Flowers kicked around for a while before joining the Minnesota Bureau of Criminal Apprehension. First it was the army and the military police, then the police in St. Paul, and finally Lucas Davenport brought him into the BCA, promising him, "We'll only give you the hard stuff."
He's been doing the hard stuff for three years now, but never anything like this.
In the small town of Bluestem, a house way up on a ridge explodes into flames, its owner, a man named Judd, trapped inside. There are a lot of reasons to hate him, Flowers discovers. In fact, he concludes, you'd probably have to dig around to find a person who doesn't despise Judd.
And that isn't even why Flowers came to Bluestem. Three weeks before, there'd been another murder, two, in fact, a doctor and his wife, the doctor found propped up in his backyard, both eyes shot out. Flowers knows two things: this wasn't a coincidence, and it had to be personal.
But just how personal is something even he doesn't realize, and may not find out until too late. Because the next victim may be himself.
File Size: 570.08 MB
Format: MP3
Download
https://rg.to/file/9479fe2d5093a81dd70159462d61b451/John_Sandford_Dark_of_the_Moon.mp3.html