Dark Celebration | Christine Feehan | AudioBook Download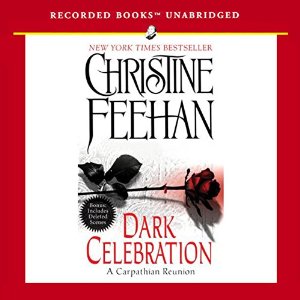 Dark Celebration By Christine Feehan AudioBook Download
Written by: Christine Feehan
Narrated by: Richard Ferrone
Length: 12 hrs and 47 mins 
Unabridged Audiobook
Release Date:09-18-07
Publisher: Recorded Books
Dark Celebration AudioBook Summary
Christine Feehan has sent shivers of pleasure up and down the spines of fans enthralled by her New York Times best-selling Carpathian tales. InDark Celebration, Feehan delivers a unique gift to her readers by bringing together all the characters of Carpathian legend in a celebration of unbridled sensuality.
Prince of the Carpathians Mikhail Dubrinsky has witnessed numerous mysterious events during his many centuries on Earth, but now he is faced with the ultimate horror: the extinction of his species. The Carpathians' enemies salivate at the thought of a final victory, but all hope is not lost. The Carpathians gather, united in a desperate hope. And no matter the outcome, blood will be shed and limitless passion unleashed.
With its endless feast of erotic delights, Dark Celebration offers everything Feehan's many fans long for.
File Size: 493.06 MB
Format: MP3
Download
https://rapidgator.net/file/18e4fd79d5e11cb6f133948bf9d4e8d1/Christine_Feehan_-_Dark_Celebration.zip.html