The Cracked Spine | Paige Shelton | AudioBook Free Download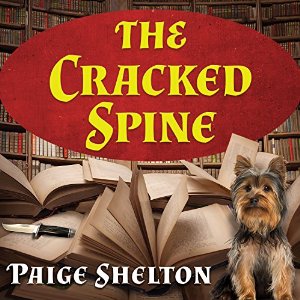 The Cracked Spine By Paige Shelton AudioBook Free Download
Written by: Paige Shelton
Narrated by: Carrington MacDuffie
Length: 7 hrs and 56 mins 
Unabridged Audiobook
Release Date:03-29-16
Publisher: Tantor Audio
The Cracked Spine AudioBook Summary
In need of a good adventure, Delaney Nichols takes the leap and moves to Edinburgh, Scotland, to start a job at The Cracked Spine. She doesn't know much about what she's gotten herself into other than that the work sounds exciting and that her new boss, Edwin MacAlister, has given her the opportunity of a lifetime.
When she arrives, she meets her new Scottish family; also working at The Cracked Spine are Rosie, perpetually wrapped in scarves, who always has tiny dog Hector in tow; Hamlet, a 19-year-old thespian with a colored past and a bright future; and Edwin, who is just as enigmatic and mysterious as Delaney expected.
But before she can settle in to her new life, a precious artifact – a previously undiscovered first folio of Shakespeare's plays – goes missing, and Edwin's sister is murdered, seemingly in connection to the missing folio. Delaney decides to do some sleuthing of her own to find out just what the real story is behind the priceless folio and how it's connected to the tragic death – all without getting harmed herself.
File Size: 212.44 MB
Format: MP3
Download
http://rapidgator.net/file/f15a45c95a42db1e4869435eda227bf3/Paige_Shelton_-_The_Cracked_Spine.zip.html