Change Your Questions, Change Your Life By Marilee G. Adams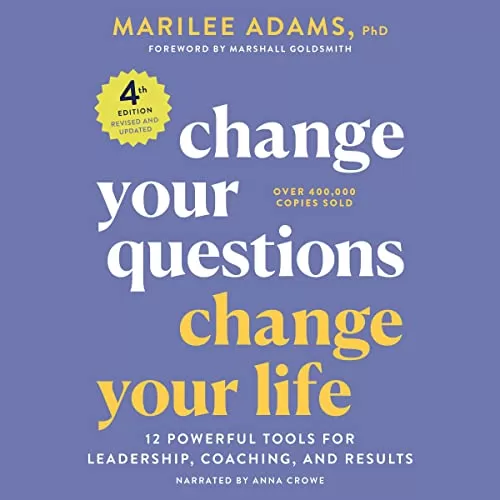 Narrated by: Anna Crowe
Length: 6 hrs and 34 mins
Release date: 08-09-22
Change Your Questions, Change Your Life By Marilee G. Adams Audio Book Summary
Discover how the questions we ask ourselves and others can either expand our mindsets and open us up to exciting new possibilities or constrict our mindsets and limit our choices for successful change.
Change Your Questions, Change Your Life is an international best seller that has sold over 400,000 copies in 22 languages. People have discovered that, when we're looking for answers, we often forget to take the time to ask the right questions. But as Dr. Marilee Adams shows, intentionally using questions helps us make wiser choices, find solutions, and transform our personal and professional lives.
Dr. Adams uses a highly engaging fable to illustrate how great results begin with great questions. The book's hero, Ben Knight, learns such breakthrough insights and undergoes a transformative journey. As we listen to how his coach takes him step by step through the 12 powerful tools of question thinking, we also learn how to apply the same information and practical skills in our own lives. At the center of this work is the choice map, which provides a simple yet powerful image to predict the likely results of the questions we ask ourselves and others. It tells us how to change our questions and our mindsets for the most rewarding outcomes.
Download
https://rg.to/file/fd4a4c707317b024131dba6b5a0eb046/Marilee_G.Adams-_Change_Your_Questions,_Change_Your_Life.zip.html