Cannabis and Sexual Ecstasy for Men By Cliff Dunning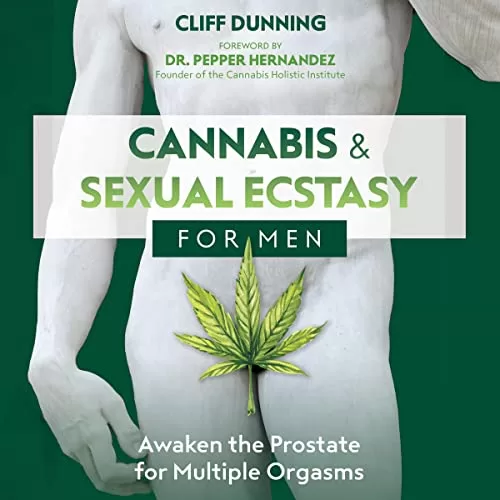 Narrated by: Cliff Dunning
Length: 4 hrs and 15 mins
Release date: 09-06-22
Cannabis and Sexual Ecstasy for Men By Cliff Dunning AudioBook Summary
Details how to awaken the prostate using internal massage techniques, intention, and microdosing with cannabis
Examines the importance of the prostate as a sex organ and why maintaining its good health is vital for overall wellness and longevity
Explores the ability of particular strains of cannabis to increase sexual pleasure, sensitize the genitals, and trigger potent orgasms
The secret to multiple male orgasms has been discovered. At the root of this multi-orgasmic pleasure is the prostate gland (the male G-spot) as well as cannabinoids, a group of chemical compounds found in cannabis that relax the mind and body, sensitize the genitals, and arouse the prostate gland.
In this step-by-step guide, Cliff Dunning details how to awaken the prostate, or P-spot, using internal massage, intention, and microdosing with cannabis in order to experience powerful multiple orgasms. He examines the importance of the prostate as a sex organ, why maintaining its good health is vital for overall wellness and longevity, and the role the prostate plays in sexual satisfaction as well as why men need regular orgasms.
Examining how cannabis can act as an aphrodisiac, the author explores its ability to increase sexual pleasure, lower inhibitions, enhance blood flow, open neural pathways, sensitize the genitals, and trigger potent orgasms through the endocannabinoid system of the human body. He investigates the cannabis strains developed to induce high states of arousal and explains how to use this plant medicine as a sexual sacrament to activate pleasure centers and open the door to multiple orgasms. He details techniques for successfully stimulating the prostate to nonejaculatory orgasm with internal massage, including specific recommendations for prostate massagers. He also discusses the many health benefits of multiple orgasms, including not only reproductive health but also psychological balance, personal development, and new levels of consciousness.
Download
https://rg.to/file/995fc3778479415f32a92d55d72f23d2/Cliff_Dunning_-_Cannabis_and_Sexual_Ecstasy_for_Men.zip.html