Calling Captain Future | Edmond Hamilton | AudioBook Download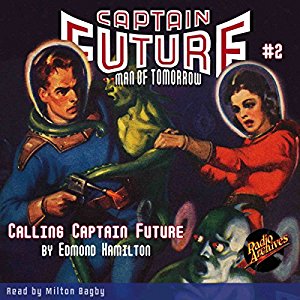 Calling Captain Future By Edmond Hamilton AudioBook Download
Written by: Edmond Hamilton
Narrated by: Milton Bagby
Length: 6 hrs and 3 mins 
Unabridged Audiobook
Release Date:10-24-16
Publisher: RadioArchives.com
Calling Captain Future AudioBook Summary
Curtis Newton, wizard of science, and his trio of Futuremen blaze a trail across the stars to forestall the coup of Dr. Zarro – leader of a legion of peril!
Captain Future flies into action, displaying the most exciting aspects of science fiction. Although modeled to a degree after Doc Savage, Captain Future is also the ultimate space opera hero. Coming complete with not only a tragic, yet inspiring origin story driving him into defending interstellar justice, everyone and everything Curt Newton encounters is colorful, vibrant, and over the top, definite trademarks of the best space opera. Captain Future is the roving marshal of the spaceways, supported by the Futuremen, the best deputies the universe has to offer.
Ready to battle with fists and weapons if he has to, Captain Future also has other skills that often come into play. Curtis Newton isn't simply smart, but he shows compassion throughout the series, for those around him and aliens new to him. Unlike many science fiction heroes, Captain Future doesn't assume that a new being he encounters is evil just because they are different. Many of the conflicts are simply misunderstandings and Captain Future proves himself as strong a diplomat as he is a fighter.
A space hero most definitely requires a spacecraft, and Captain Future's was one of the most memorable. Leaving its own distinctive rocket trail across the stories, the Comet was the ultimate ship for the perilous, mysterious missions the Captain and his companions undertook. From fighting battles above strange planets to studying strange minerals and new alien races, the craft was fully equipped with whatever might be needed.
Rocket into science fiction adventure and discover new worlds. Ripped from the pages of the Spring 1940 issue of Captain Future magazine, "Calling Captain Future" is read with wonder and excitement by Milton Bagby.
File Size: 164.9 MB
Format: MP3
Download
http://rapidgator.net/file/f0d514cf97c4bf9b3042aa8ed61385a1/Edmond_Hamilton_-_Calling_Captain_Future.zip.html