Brothers of the Gun By Marwan Hisham, Molly Crabapple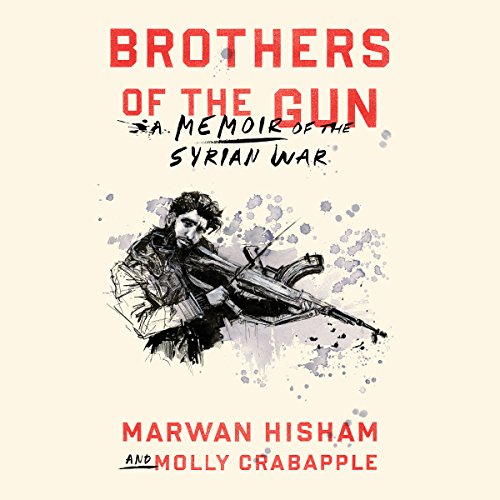 Narrated by: Peter Ganim
Length: 8 hrs and 28 mins
Release date: 05-15-18
Brothers of the Gun AudioBook Summary
A bracingly immediate memoir by a young man coming of age during the Syrian war, Brothers of the Gun is an intimate lens on the century's bloodiest conflict and a profound meditation on kinship, home, and freedom.
In 2011, Marwan Hisham and his two friends – fellow working-class college students Nael and Tareq – joined the first protests of the Arab Spring in Syria, in response to a recent massacre. Arm in arm they marched, poured Coca-Cola into one another's eyes to blunt the effects of tear gas, ran from the security forces, and cursed the country's president, Bashar al-Assad. It was ecstasy. A long-bottled revolution was finally erupting, and freedom from a brutal dictator seemed, at last, imminent. Five years later, the three young friends were scattered: one now an Islamist revolutionary, another dead at the hands of government soldiers, and the last, Marwan, now a journalist in Turkish exile, trying to find a way back to a homeland reduced to rubble.
Brothers of the Gun is the story of a young man coming of age during the Syrian war, from its inception to the present. Marwan watched from the rooftops as regime warplanes bombed soldiers; as revolutionary activist groups, for a few dreamy days, spray-painted hope on Raqqa; as his friends died or threw in their lot with Islamist fighters. He became a journalist by courageously tweeting out news from a city under siege by ISIS, the Russians, and the Americans all at once. He watched the country that ran through his veins – the country that held his hopes, dreams, and fears – be destroyed in front of him and eventually joined the relentless stream of refugees risking their lives to escape.
Brothers of the Gun offers a ground-level reflection on the Syrian revolution – and how it bled into international catastrophe and global war. This is a story of pragmatism and idealism, impossible violence and repression, and, even in the midst of war, profound acts of courage, creativity, and hope.
File Size: 225.91 MB
Download
https://rg.to/file/23f5a67840b69da80a2322eb197918ba/Marwan_Hisham,Molly_Crabapple-_Brothers_of_the_Gun.zip.html