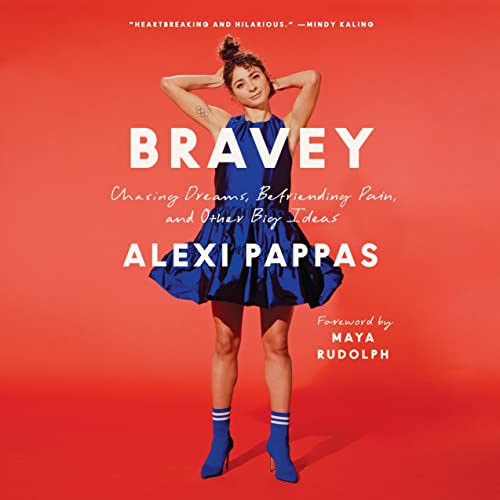 Narrated by: Alexi Pappas, Maya Rudolph – foreword
Length: 9 hrs and 17 mins
Release date: 01-12-21
Bravey AudioBook Summary
The Olympic runner, actress, filmmaker and writer Alexi Pappas shares what she's learned about confidence, self-reliance, mental health, embracing pain, and achieving your dreams.
Named One of the Best Books of the Year by Real Simple
"Heartbreaking and hilarious." (Mindy Kaling)
"A beautiful read." (Ruth Reichl)
"Essential guidance to anyone dreaming big dreams." (Shalane Flanagan)
"I couldn't put it down." (Adam Grant)
run like a bravey
sleep like a baby
dream like a crazy
replace can't with maybe
When "Renaissance runner" (New York Times) Alexi Pappas – Olympic athlete, actress, filmmaker, and writer – was four years old, her mother died by suicide, drastically altering the course of Pappas's life and setting her on a search for female role models. When her father signed his bereaved daughter up for sports teams as a way to keep her busy, female athletes became the first women Pappas looked up to, and her Olympic dream was born. At the same time, Pappas had big creative dreams, too: She wanted to make movies, write, and act. Despite setbacks and hardships, Pappas refused to pick just one lane. She put in a tremendous amount of hard work and wouldn't let anything stand in her way until she achieved all of her dreams, however unrelated they may seem to outsiders. In a single year, 2016, she made her Olympic debut as a distance runner and wrote, directed, and starred in her first feature film.
Download
https://rg.to/file/dedf0f9b4a9b55afb00d9a3ddd7af663/Alexi_Pappas_-_Bravey.m4b.html