Bounce Back By Dr. John DeMartini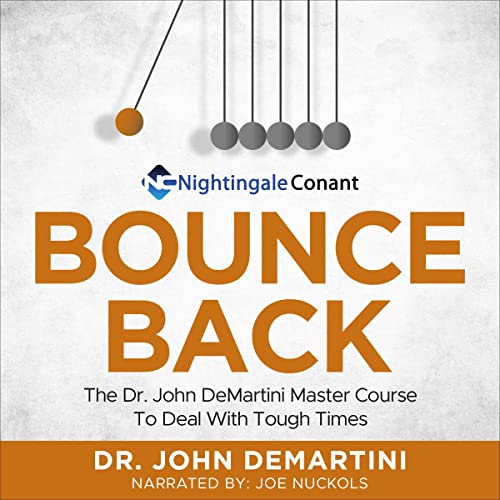 Narrated by: Dr. John DeMartini
Series: Nightingale-Conant: Skill Building
Length: 9 hrs and 44 mins
Release date: 08-30-22
Bounce Back By Dr. John DeMartini AudioBook Summary
How do you bounce back from tough times? So far, this new 21st century has suffered many setbacks. They turned the entire economy off with pandemic fears. Businesses and schools closed. Public gatherings prohibited. An epidemic of opioid overdoses, security, safety and fears of war. The job market is forcing many to start businesses of their own. This Master's Course addresses all these issues and more.
Such times produce visionaries who shine a new light on answers to adversity. Yet, through all the adversities, humans have overcome the bad and bounced back.
This Nightingale-Conant course presents a true master of overcoming tough times. Dr. John DeMartini travels over 360 days a year to audiences in over 56 countries. He shares his research and findings across the globe. Dr. DeMartini is the author of over forty books, published in 14 different languages. He has produced a full library of audio and video courses covering subjects such as personal development, relationships, wealth, education, chiropractic, and business. He has created over 72 different courses. Each program empowers and activates leadership and potential in all the seven areas of their life.
We have meticulously assembled this course from these various courses to address what it takes to overcome hard times and bounce back.
In 1982, Dr. John DeMartini founded the DeMartini institute, a private research and education institute in Houston, Texas.
Download
https://rg.to/file/a542e45b942e0ecd15a4d723d976a0ae/Dr.John_DeMartini-_Bounce_Back.zip.html