Bite the Dust | Cynthia Eden | AudioBook Free Download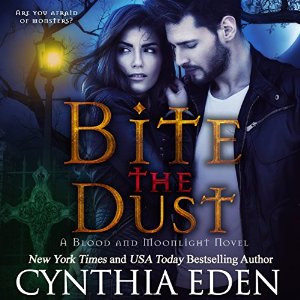 Bite the Dust By Cynthia Eden AudioBook Free Download
Written by: Cynthia Eden
Narrated by: Sophie Eastlake
Length: 7 hrs and 43 mins 
Series: Blood and Moonlight, Book 1
Unabridged Audiobook
Release Date:05-17-16
Publisher: Hocus Pocus Publishing, Inc.
Bite the Dust AudioBook Summary
Vampires. Werewolves. Beasts that hunt in the night. When New Orleans Detective Jane Hart investigates her first official homicide case, she never expects to have her world ripped apart. But the murder she's investigating is part of a deadly war between vampires and werewolves and now Jane is caught in that eternal battle. A battle that can't end well.
Werewolf Aidan Locke has been running New Orleans for years. It's his job to keep the vamps out of the city. But when a Master Vampire comes to town, determined to unleash hell, Aidan knows it's time to fight with all the fury of his pack. Beast versus vamp, until the last breath. Then he meets Jane.
One look, one taste, and Aidan knows that Jane is far more than she seems. Far more than she even knows herself to be. She's important in the paranormal war, not a pawn to be used, but a queen to be won. And if he can't keep her at his side, if he can't stop the darkness from descending on the town then Jane Hart will become not just a fierce cop, not some guardian, but something deadlier. Darker. Aidan will fight heaven and hell to change her fate. To change their fate because he is more than just a predator.
And Jane is more than prey. Far more.
File Size: 212.37 MB
Format: MP3
Download
http://rapidgator.net/file/e4bb33579697603aa7bf3f5bd590f9c5/Bite_the_Dust.mp3.html