Beyond Done with the Crying By Sheri McGregor MA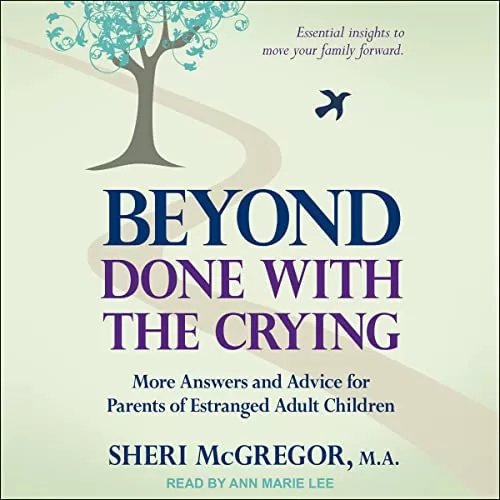 Narrated by: Ann Marie Lee
Length: 13 hrs and 59 mins
Release date: 09-06-22
Beyond Done with the Crying By Sheri McGregor MA AudioBook Summary
Ten thorough chapters contain relevant research, reflection questions, exercises, and common-sense advice about the gritty, complex issues parents of estranged adult children face. Expand your self-awareness, strengthen your resilience, and take positive action for your life, your family, and your happiness.
All parents make mistakes. Some have deep regrets for things they did or didn't do. In one chapter, these parents share how they believe they fell short and how they're managing. How long must a parent bow to guilt, pay penance, and make amends? And, deplorably, do some adult children exploit their guilt?
For any parent of estranged adult children, reconciling may be a solo sport. Even when reconciliations do occur, their success requires wisdom and strength. That's why it's so important to empower yourself, make positive changes, and reclaim your life, even while waiting and continuing to reach out (if you choose to).
Download
https://rg.to/file/6648743df2ec7c8d93355e1689d32d4a/Sheri_McGregor_MA_-_Beyond_Done_with_the_Crying.zip.html