Bedtime Stories for Adults & Guided Mindfulness Meditations for Deep Sleep By Catherine Evans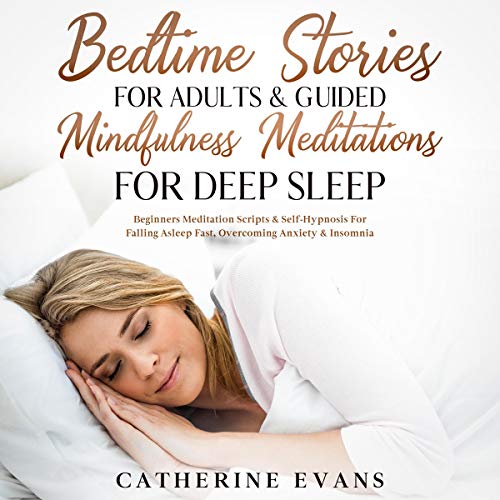 Narrated by: Shane Matsumoto
Length: 10 hrs and 20 mins
Release date: 21-07-20
Bedtime Stories for Adults & Guided Mindfulness Meditations for Deep Sleep AudioBook Summary
If you often struggle to fall asleep at night then keep reading…
Do you toss and turn for hours every night? Wish you could easily fall asleep? Wake up feeling like a zombie most mornings?
Luckily, it doesn't always have to be that way.
What if, instead of taking hours to fall asleep, you could listen to deeply relaxing Bedtime Stories and Guided Meditations that helped you fall asleep within minutes. (Without ANY sleeping pills!)
Well, that's exactly what these Bedtime Stories and Guided Meditations were made for.
Multiple studies have shown the incredible benefits Mindfulness Meditations can have on sleep, as well as how Guided Meditations designed specifically for sleep can help you drift off.
Oh, and listening to Bedtime Stories has been shown to calm your mind, help you relax and get you to fall asleep quicker. And, you get to listen to an awesome story as you fall asleep. It's a win-win!
So, by combining meditations and bedtime stories as part of your nighttime routine, sleep troubles will become a thing of the past.
Anyways, here's a slither of what's inside.
A collection of 15+ deeply relaxing bedtime stories that will put even the biggest insomniacs to sleep!
The best 20 minute deep sleep meditation script for falling asleep fast
How 10 minutes of mindfulness meditation could revolutionize your sleep…
The easy to follow guided hypnosis for falling asleep in minutes
3 of the best breathing methods to help you relax deeply and utilize the power of meditation
Deeply relaxing beach bedtime stories that will take you on the journey of a lifetime
A stress relieving bedtime story that will get you looking forward to your next holiday…
The must have 10 minute after work stress relieving meditation! (your friends and family will thank you for doing this!)
And so much more!
File Size: 271.49 MB
Download
https://rg.to/file/a11a61d77b1487137b469483f61140db/Catherine_Evans_-Bedtime_Stories_for_Adults&_Guided_Mindfulness_Meditations_for_Deep_Sleep.zip.html