Arrive and Thrive By Susan MacKenty Brady, Lynn Perry Wooten, Janet Foutty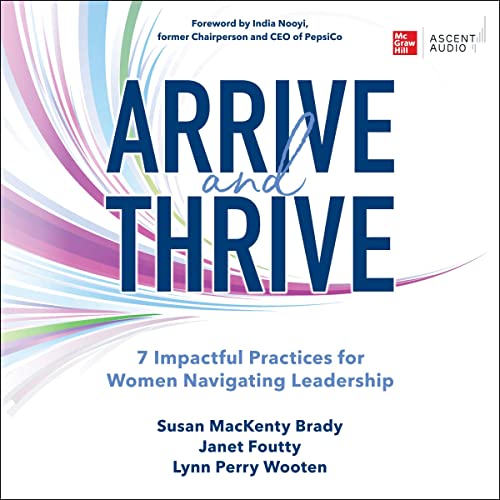 Narrated by: Kim Niemi
Length: 6 hrs and 28 mins
Release date: 04-12-22
Arrive and Thrive By Susan MacKenty Brady, Lynn Perry Wooten, Janet Foutty AudioBook Summary
Arrive and Thrive addresses the persistent problems women leaders face by offering seven actionable practices listeners can use to pave a smooth path to success.
The executive chair of Deloitte's US board, Janet Foutty, teams up with two renowned women leaders—Susan MacKenty Brady and Lynn Perry Wooten—to show you how to overcome obstacles in your career. Packed with firsthand contributions from both men and women leaders of some of today's biggest and most successful organizations, Arrive and Thrive offers seven actionable practices that help women leaders thrive when they arrive, including: Investing in Your Best Self, Embracing Authenticity, Cultivating Courage, Fostering Resilience, Inspiring a Bold Vision, Creating a Healthy Team Environment, and Committing to the Work of an Inclusive Leader.
The paradigm for women for far too long has been about surviving if you're lucky enough to arrive at the top. The 7 Impactful Practices for Arriving & Thriving enable you to thrive and, in so doing, help others thrive as well. As you rise into your position of greater responsibility, risk, and reward, Arrive and Thrive offers the groundwork for making effective and fulfilling choices for yourself, your team, your industry, and your community.
Download
https://rg.to/file/fb1b461fe1a195dd63910c1ed108ed83/Susan_MacKenty_Brady,Lynn_Perry_Wooten,_Janet_Foutty-_Arrive_and_Thrive.zip.html