American Midnight By Adam Hochschild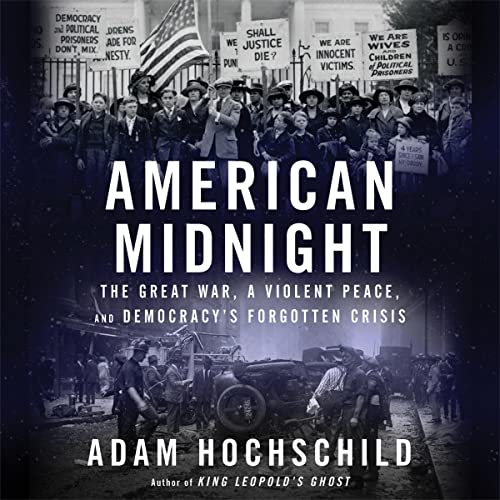 Narrated by: Jonathan Todd Ross
Length: 15 hrs and 6 mins
Release date: 10-04-22
American Midnight By Adam Hochschild AudioBook Summary
From award-winning, New York Times best-selling historian Adam Hochschild, a fast-paced, revelatory new account of a pivotal but neglected period in American history: World War I and its stormy aftermath, when bloodshed and repression on the home front nearly doomed American democracy.
The nation was on the brink. Angry mobs burned Black churches to the ground and chased down pacifists and immigrants. Well over a thousand men and women were jailed solely for what they had written or said, even in private. An astonishing 250,000 people joined a nationwide vigilante group—sponsored by the Department of Justice.
This was America during and after the Great War: a brief but appalling era blighted by torture, censorship, and killings. Adam Hochschild brings to life this troubled period, which stretched from 1917 to 1921, through the interwoven tales of a colorful cast of characters: some well-known, among them the sphinxlike Woodrow Wilson and the ambitious young bureaucrat J. Edgar Hoover; others less familiar, such as the fiery antiwar advocate Kate Richards O'Hare and the outspoken Leo Wendell, a labor radical who was frequently arrested and wholly trusted by his comrades—but who was in fact Hoover's star undercover agent.
A groundbreaking work of narrative history, American Midnight recalls these horrifying yet inspiring four years, when some brave Americans strove to keep their fractured country democratic, while ruthless others stimulated toxic currents of racism, nativism, red-baiting, and contempt for the rule of law—poisons that feel ominously familiar today.
Download
https://rg.to/file/79f91e7ef1dfb9e6df3452d16661a93e/Adam_Hochschild_-_American_Midnight.zip.html