American Betrayal By Diana West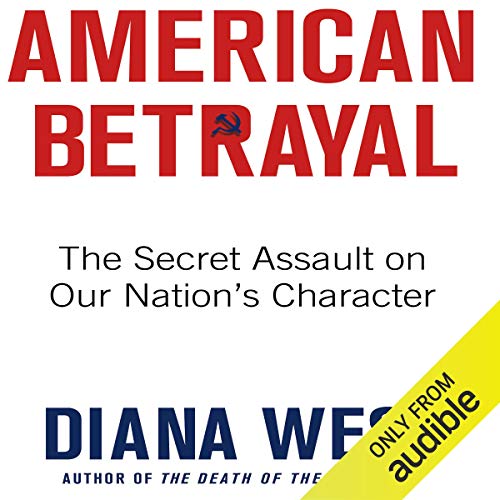 Narrated by: Diana West
Length: 20 hrs and 41 mins
Release date: 03-10-18
American Betrayal AudioBook Summary
"Russian influence" may have entered our national pop-consciousness in Election 2016, but it is the shiny, deceptive, contested, and buried X-factor of a century of wars in Washington. In American Betrayal, Diana West digs deep to uncover a body of lies that Americans have been led to regard as the near-sacred history of World War II and its Cold War aftermath.
Part real-life thriller, part national tragedy, American Betrayal lights up the massive, Moscow-directed penetration of America's most hallowed halls of power, revealing not just the familiar struggle between Communism and the Free World, but the hidden and unceasing war between those wishing to conceal the truth and those trying to expose the official web of lies.
American Betrayal is America's lost history, a chronicle that pits Franklin Delano Roosevelt, Harry Truman, Dwight David Eisenhower, and other American icons who shielded overlapping Kremlin-directed conspiracies against the investigators, politicians, defectors, and others (including Senator Joseph McCarthy) who tried to tell the American people the truth.
American Betrayal shatters the approved, "court histories" of an era that begins with FDR's first inauguration and ends when we "win" the Cold War. It is here, amid the rubble, where Diana West focuses on the World War II – Cold War deal with the devil in which America surrendered her principles in exchange for a series of Big Lies whose preservation is the basis of the tryanny of the "Swamp" today. It was this moral surrender to deception and self-deception, West argues, that sent us down the long road to moral relativism and "political correctness". In American Betrayal, Diana West shakes the historical record to bring down a new understanding not only of our past, but our present.
File Size: 568.45 MB
Download
https://rg.to/file/51a788ba9cc857c5335d62ba561c4249/Diana_West_-_American_Betrayal.mp3.html