Alcatraz Versus The Shattered Lens [Dramatized Adaptation] By Brandon Sanderson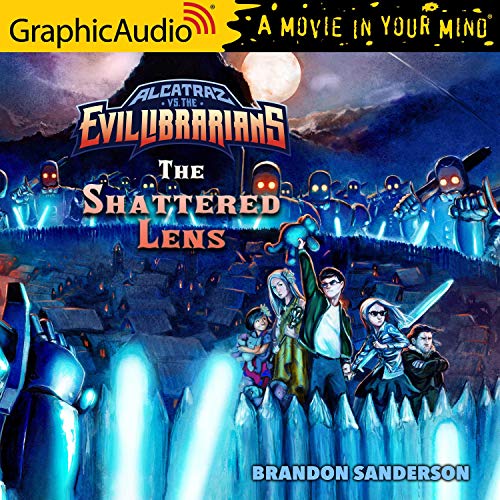 Narrated by: Alejandro Ruiz, Carolyn Kashner, Christopher Walker, Chris Genebach, Sakile Lyles, Marni Penning, Thomas Penny, Zeke Alton, Eva Wilhelm, Nora Achrati, Laura C Harris, Scott McCormick, Ken Jackson, Steve Wannall, full cast
Series: Alcatraz vs. the Evil Librarians, Book 4
Length: 5 hrs and 12 mins
Release date: 10-07-20
Alcatraz Versus The Shattered Lens [Dramatized Adaptation] By Brandon Sanderson AudioBook Summary
Alcatraz Smedry is up against a whole army of Evil Librarians with only his friend Bastille, a few pairs of glasses, and an unlimited supply of exploding teddy bears to help him.
This time, even Alcatraz's extraordinary talent for breaking things may not be enough to defeat the army of Evil Librarians and their giant librarian robots.
Performed by Alejandro Ruiz, Carolyn Kashner, Christopher Walker, Chris Genebach, Sakile Lyles, Marni Penning, Thomas Penny, Zeke Alton, Eva Wilhelm, Nora Achrati, Laura C Harris, Scott McCormick, Ken Jackson, Steve Wannall, Terence Aselford, Eric Messner, Michael Glenn, Richard Rohan, Michael John Casey, Robbie Gay, Bradley Smith.
Download
https://rg.to/file/3438f1a4ada0d2058c6336dad73a5291/Brandon_Sanderson_-Alcatraz_Versus_The_Shattered_Lens[Dramatized_Adaptation].zip.html